Alvin Queen
Feature CD Review: Alvin Queen's "O.P.":
For Release: March 25, 2019
Review by Malvin Massey, Jr., 3/24/2019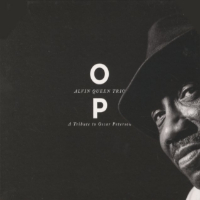 The Feature CD Review is from the fantastic journeyman drummer by the name of Alvin Queen. It is his trio work titled O.P.- A Tribute To Oscar Peterson.
This tribute is appropriate for Mr. Queen since beyond their professional relationship as band mates, Oscar Peterson and Alvin Queen were also good friends.
In the liner notes, Celine Peterson, youngest daughter of the great pianist says: "Alvin Queen created this powerful musical statement as a gift to my Dad showing his deep gratitude for the time they spent together performing all over the world. His admiration for Dad was always shown during the time they spent together, not just on the bandstand, but in restaurants, in hotel rooms, and airports where they would share cherished moments of conversation and laughter."
Alvin was born in the Bronx, New York in 1950 and his family moved to Mt. Vernon when he was two years old. They lived in the Levister Towers Projects where he was surrounded by many individuals who, like him, sprouted into the leading exponents of their generation.
There were musicians like Jay Hoggard, NBA stars like Ray Williams of the Knicks, and future Academy Award winner Denzel Washington just to name a few. It was in Denzel's father's church, the First Church of God in Christ, where Alvin first became aware of music, singing in the choir and playing tambourine.
His brother, Willie Queen, introduced him to drums when he was a member of the Grime School Marching Band. He was too poor for his family to buy him a set, but he tried to earn the money shining shoes.
One day while shining shoes in front of the Andy Lalino Drum Studio, he had a chance to meet and speak with the studio owner and Mr. Lalino was so impressed that he helped Alvin begin lessons. His father introduced him to jazz by taking him to shows at the Apollo Theatre, where he heard the likes of Coltrane, Cannonball and Ruth Brown.
It was Ruth Brown who gave him his first professional gig; he was 11 years old. He played with many great jazz artists as a teen and continued into adulthood.
His credits include working for Horace Silver, George Benson, Stanley Turrentine and many others, including Oscar Peterson. Queen, like many other African-American jazz artists, moved to Europe and gained Swiss citizenship along with his American citizenship. His trio is made up of two of the best Danish jazz musicians in the business today. Zier Romme, the 26 year old, Peterson-inspired virtuoso pianist has already gained great recognition on the Nordic jazz scene with his undeniable talent. 38 year old Ida Hvid is an upright bass pioneer on the contemporary European jazz scene.
With Alvin's steady, driving drums pushing the up-tempo tracks, and their mellow blending of melodies on the other tracks, you will think you are listening to an Oscar Peterson album. This will one day be a historic CD.