Antonio Adolfo
Feature CD Review: Antonio Adolfo's "Samba Jazz Alley"
For Release: July 22, 2019
Review by Malvin Massey, Jr., 7/22/2019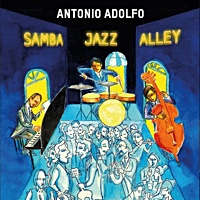 This Feature CD Review is from an artist whose music I consider a staple for the WUMR inventory. It is Antonio Adolfo, and this new one is titled Samba Jazz Alley.
A native of Rio de Janiero, pianist, arranger, producer and educator Antonio Adolfo grew up in a musical family. His mother was a violinist with the Brazilian Symphony Orchestra.
He began his musical studies at the age of 7, and was a professional musician by the age of 17. His teachers included Eumir Deadoto and Nadia Boulanger in Paris.
Adolfo was a teenager in the early 60's when he became a part of the bossa nova revolution that was sweeping Brazil, and indeed the whole world at the time. He led his own trio and participated in several bossa nova and jazz shows in Brazil. He toured with artists like Flora Purim and Milton Nascimento.
As a composer, he wrote what I consider one of the most beautiful songs in the Latin Jazz repertoire "Pretty World" - the original Brazilian title of which is "Sa Marina." This song puts him in the company of Jobim and Ary Barroso as composers of original classic bossa nova; at least in my mind.
This new album has an interesting and historical story behind its title.
In the liner notes, Atonio describes it like this:
"From 1958 to 1965, a small alley in Rio's Copacabana district became known as Beco das Garrafas (Bottles Alley) because neighbors in taller buildings used to throw bottles down from their apartments to protest the loud music and boisterous conversations below. It was like a cauldron of jazz, samba and bossa nova, thanks to the adventurous young musicians who found it an ideal place to get together. The Alley's four nightclubs gradually welcomed them as this new type of music took hold with enthusiastic audiences."
It was there that he honed his skills as a performer and formed his trio "3D" to accompany bossa nova composer Carlos Lyra for his musical play with the legendary Vinicius de Moraes.
He says:
"Looking back, I see that Bottles Alley was the most important music academy of my life. This Samba Jazz Alley CD is my tribute to those days (and nights) and to some of the musicians who have inspired me throughout my career."
Adolfo is a leader in instrumental Brazilian jazz and this latest CD is one of the best examples of this special genre of music. If you can listen to this album and not move a part of your body, something is missing in your life.