David Benoit
Feature CD Review: David Benoit's "David Benoit and Friends"
For Release: August 25, 2019
Review by Malvin Massey, Jr., 8/25/2019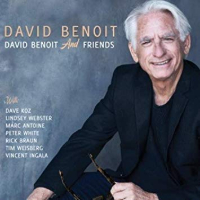 This Feature CD Review is from one of our favorite pianists. David Benoit has just released his new album titled David Benoit and Friends.
This one will make you think of the golden age of GRP Records. As a matter of fact, one of the tracks on the CD is a subtle tribute to the great Dave Grusin, titled "Dave G" who David calls his hero.
Whether you are a fan of contemporary jazz or not, you can't help but love this album. David Bryan Benoit is a native of Bakersfield, CA and lives in Los Angeles.
He is a pianist, composer and producer, as well as music director for the Asia America Symphony Orchestra and the Asia America Youth Orchestra. He has been nominated for 3 Grammy Awards.
David started playing piano at the age of 13. He focused on theory and composition at El Camino College and studied orchestration, and later studied film scoring at UCLA.
Benoit also studied music conducting and began his career as a musical director and conductor for Lanie Kazan in 1976, before moving on to similar roles with singer/actresses Ann Margaret and Connie Stevens.
He released his debut album in 1977 titled "Heavier Than Yesterday" on the BlueMoon Label. In 1988 he began recording for GRP, and that is where the "friends" come in.
You see, that was when GRP released hit after hit with some of the most iconic musicians in the world of fusion jazz as it was called then. The music was always fun and free of inhibitions.
Led by Dave Grusin and Larry Rosen (thus the name of the label, Grusin Rosen productions) the label produced a string of hits from their cast of major players like Dave Grusin himself and his brother Don, David Benoit, The Rippingtons, Art Farmer, Eddie Daniels, Arturo Sandoval, Lee Ritenour, George Benson, Earl Klugh (the first artist to record on GRP), Chick Corea, Larry Carlton, Dave Valentin, Joe Sample, The Crusaders, well you get the picture.
I digress, but this CD by David Benoit is, to me, reminiscent of those glory days of jazz fusion and early digital recordings. Each tune has its own distinct personality.
No cookie cutter tracks here. They range from Latin to funk, to symphonic and more. The tunes are Benoit compositions, along with a funky Jeff Lorber track, a jazz classic done magnificently by Rick Braun, and one by Coldplay.
The friends included on this album are Marc Antoine, Rick Braun, Dave Koz, Vincent Ingala, Peter White, Tim Weisberg, Lindsey Wagner and introducing Justin Cheung on cello, one of the members of the Youth Symphony.
If you remember David's tribute to his friend Charles Schultz titled "Here's To You Charlie Brown: 50 Great Years" released after the great cartoonist passing in 2000, you'll remember the light and happy feeling of the music on that CD. This one is like that.
The music is light and happy. I can't imagine that we could receive this album and not make it a Feature CD.