Rick Braun
Feature CD Review: Rick Bruan's "Crossroads"
For Release: August 18, 2019
Review by Malvin Massey, Jr., 8/18/2019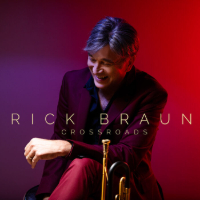 This Feature CD Review is from trumpeter, vocalist, record producer Rick Braun, and it is titled Crossroads.
This is one of those features that defies categorization. We think of fusion, some will say its smooth jazz, but others will notice the orchestration and think contemporary. It is all those and more.
Rick Braun has been a fixture in jazz for a long time. Rick began by playing drums in high school.
He transitioned to trumpet and joined the fusion band Auricle in the 1970's. In the 80's he played trumpet as a touring musician and studio musician.
He toured with the likes of Natalie Cole, Rod Stewart, Tom Petty, Sade, Tina Turner and more. He recorded his first solo release "Intimate Secrets" in 1992.
Since then he has continued with a stellar and award winning formula for music that makes his sound unique. He has written or co-written each of the tracks on this CD and performs on trumpet, flugle horn, and valve trombone.
This is an album filled with feel good music that you are sure to enjoy. In a week when nearly every CD we have reviewed could easily be a feature, this one stands out for its originality and just because it's fun to listen to.