Elan Trotman
Feature CD Review: Elan Trotman's "Dear Marvin"
For Release: May 26, 2019
Review by Malvin Massey, Jr., 5/26/2019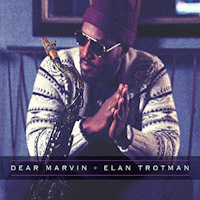 This Feature CD Review is from composer, performer, teacher, and recording artist Elan Trotman. The album is titled Dear Marvin, and it is a fabulous revival of some the music of the great Marvin Gaye.
Born and raised in Barbados, and educated at the Berklee College of Music in Boston, Trotman's playing, though inspired by Grover Washington, Jr., Kirk Whalum, and Najee, displays his own ideas and distinctive tone.
The New England Urban Music Awards and the Barbados Music Awards both have named him Jazz Artist Of The Year on multiple occasions. He approaches jazz in his own way, blending Caribbean rhythms from his roots with skillful horn textures.
Trotman has recorded and performed with a plethora of world-class musicians like Jeff Lorber (who does a guest spot on this album) Roberta Flack, Keiko Matsui, Michael McDonald, Will Downing, Marcus Miller and many more.
He is the Executive Producer and host of The Barbados Jazz Excursion, a jazz and golf weekend getaway, which brings over 300 music lovers to the island each Columbus Day Weekend. He is also the founder of the Never Lose Your Drive Foundation, a non-profit which directly funds the Head Start Music Program on the Island.
From the liner notes on the CD, Trotman says:
"Studying and performing the music of the late, great Marvin Gaye has been a wonderful experience. As with all cover projects, I made an extra effort to learn lyrics and storylines for each composition in order to truly understand Marvin's interpretations and performances of each song."
He was also pleased to hear from the Gaye family who wrote:
"We, Marvin's family, heard about Elan doing a musical tribute to Marvin. We are very pleased with this album Dear Marvin and are so happy that it will be released on his birthday, April 2nd. The musicians are all incredible! Thank you, Elan Trotman. Job well done."
We wholeheartedly agree with that statement. Although most of the musicians are from Trotman's band and are not well known to most of us, they are absolutely skillful and the music is so well done that we are transported back to the late 60's, early 70's when these tunes were so familiar that everyone could sing the lyrics from memory.
It takes a lot of nerve to make an album of music that so many people are so fond of, unless you get it right. This one is right.