Equal Time
Feature CD Review: "Equal Time"
For Release: June 16, 2019
Review by Malvin Massey, Jr., 6/16/2019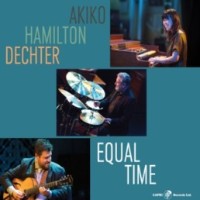 This Feature CD Review is from three major players on the jazz scene, working as a fluid machine of rhythm and syncopation. The album is titled Equal Time, and the artists are Akiko Tsuruga, Jeff Hamilton, and Graham Dechter.
There is no need to go into extensive bios on this group. They have all made a mark on the jazz world as individual artists.
As a trio, they live up to the title of the album, they take "Equal Time" showcasing their own individual talents, while melding together in a solid sound that flows as smooth a butter.
Composer, pianist and B-3 artist, Akiko began playing at the age of 3. Originally from Osaka, Japan, she graduated from Osaka School of Music and moved to New York. She studied with Lonnie Smith, and has since become one of the finest Hammond B-3 players in the world.
Jeff Hamilton is legendary as a drummer and band leader since the 70's. He is from Richmond, Indiana and studied at Indiana State.
He joined Monty Alexander's Trio and then Woody Herman's Orchestra, before co-creating the Clayton-Hamilton Jazz Orchestra and recording with his own trio, which features Christoph Luty and Tamir Hendelman.
Composer, guitarist Graham Dechter is something of a young gun of the group. He began his musical studies with violin lessons and composing orchestral pieces at the age of 5.
A native of Santa Monica, he studied at prestigious Idyllwild Arts Academy and discovered his love of guitar. After honing his skills at Eastman School of Music, he joined the Clayton - Hamilton jazz Orchestra at the age of 19, the youngest member, and is still with them. He has been recording his own CDs quite successfully all the while.
The tracks on this album are great arrangements of classics and memorable originals that are sure to become standards as years go by.