Jazz Piano Panorama
Feature CD Review: "Jazz Piano Panorama"
For Release: July 28, 2019
Review by Malvin Massey, Jr., 7/28/2019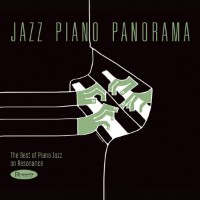 This Feature CD Review is a compilation of great music from great artists presented by a great and progressive jazz music label, and it is titled Jazz Piano Panorama: The Best of Piano Jazz on Resonance.
Resonance Records is an independent jazz record label established in 2008 as the centerpiece of the Rising Jazz Stars Foundation, a non-profit organization, dedicated to preserving the art and legacy of jazz.
Based out of Los Angeles with a logo that says "Resonance Records, A Non-Profit Jazz Label With A Mission," the label is devoted to preserving jazz and discovering the rising stars of tomorrow.
The Rising Jazz Stars Foundation was founded by George Klabin in 2005 in an effort to provide support and assistance to talented jazz artists. They have done just that and many of the artists whose music you hear on WUMR are the beneficiaries of their efforts.
Incredibly talented artists from the past, present and future, like Tamir Hendleman already established as a master of the keyboards, Eddie Daniels, legendary woodwind master, well known contemporary musicians. Their catalog also includes legends like Sarah Vaughn, Gene Harris, and Stan Getz.
They have not-so-well-known artists like Dado Morini, Marian Petrescu, and trombonist Aubrey Logan. All are examples of the great skill and talent that is the essence of jazz.
This album that we are featuring is part of a set of label samplers to celebrate 10 years of great jazz and explores a wide range of virtuosic pianists from rising stars to jazz greats. Other disks in the series include The Best of Wes Montgomery, Bill Evans: Smile With Your Heart, and Sing a Song of Jazz, featuring the same wide range of vocal jazz artists as the Jazz Piano Panorama.
You will marvel at the new tracks and amazing arrangements of the classic tracks on this disk. This is one member of the jazz family presenting its best and brightest.
It is a delight and a privilege for us to be able to present this fabulous music to you. I hope that you will find a new appreciation for the legendary artists and a new recognition of the newer artists on this Feature CD.