John Novello
Feature CD Review: John Novello's "Good To Go"
For Release: April 14, 2019
Review by Malvin Massey, Jr., 4/14/2019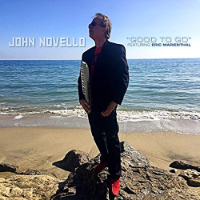 This Feature CD Review is from keyboardist, recording artist John Novello and the title is Good To Go. It's a neo or smooth jazz album with a lot of soul, and funk mixed in with some beautiful tracks performed by a solid crew and very well-known guest artists.
Novello grew up in Erie, Pennsylvania, and at the age of nine began playing accordion before moving to the piano and ultimately to the Hammond B3 with which he fell in love. He was a successful band leader as a young man, and decided to attend a summer camp at Berklee.
He loved the school and the city and enrolled as a full-time student. As is common with college students, he started running low on money and began giging to make ends meet.
He landed a gig in Boston's infamous Combat Zone playing jazz standards on the B3 every night behind exotic dancers and honing his skills on the bass pedals.
After Berklee he moved to Los Angeles and got a job as musical director for the band Taste of Honey - you may remember they had a hit titled "Boogie, Oogie, Oogie." While on tour with that band, he met Donna Summer and was soon in her band. He performed with a succession of major players like Manhattan Transfer, Richie Cole, Ramsey Lewis and Edgar Winter.
He went back to Los Angeles and formed his own group "Threshold" and began working on his original music which blended rock, funk, and blues. He has had much success with his music in the years since.
He has recorded several CDs of his own tunes, always incorporating some of the cream of the crop of jazz artists. The album Ivory Soul which was very popular with the WUMR on-air personalities included a tune titled "Crush" which became a hit and featured the great Gerald Albright on sax and blended old school jazz with soulful pop and is proof that his instrumental focus has slowly changed from B3 to acoustic piano.
This new CD has all the elements of John's career. Keyboards and piano, great guest artists including saxophonist Eric Marienthal (with whom he studied at Berklee and who was an original member of the Chick Corea Electric Band), saxophonist Adam Hawley, saxophonist Jazzmin Ghent and the fabulous British guitarist Chris Standring.
This is really good music for a mellow set and he even remembered his roots playing jazz standards as the last track is a very interesting arrangement of "My Favorite Things." This CD is a perfect feature because it has all the musical elements that make for entertaining and enjoyable jazz.