The Justus Brothers
Feature CD Review: "The Justus Brothers"
For Release: June 23, 2019
Review by Malvin Massey, Jr., 6/23/2019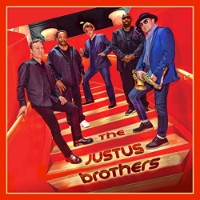 The Feature CD Review is from a new group with deep Memphis roots. The album is titled The Justus Brothers, by The Justus Brothers.
Who, you ask, are the Justus Brothers? They are Pat Register on saxophone, Niko Lyras on guitar, Jason Clark on keyboards, Steve Potts on drums and Dave Smith on bass.
These guys are very familiar to the Memphis music community and all are great musicians in their own right. Recorded over a period of three months at Niko's Cotton Row Studios in Memphis, and produced by Niko and the band, this CD features a wide range of moods and styles with originals and cover tunes that are performed with the cohesion of a group that has been together for a very long time.
Niko Lyras left his home in Athens, Greece at the age of 19 to come and study in the states, and become immersed in the Memphis Groove. He earned Bachelor's and Master's Degrees in Economics, all the time gigging on guitar or bass playing rock, jazz or R & B, which attests to his flexibility as a musician.
He soon realized that he wanted to be a music engineer and producer, so he took jobs in local studios to learn the basics before opening Cotton Row Studios in 1980. He has since become a critical figure in the Memphis music industry as a producer, engineer, songwriter, guitarist, publisher and studio owner, earning numerous industry awards over the years.
Pat Register has been a part of the Memphis music scene for quite a few years and is well known as a recording artist and solo performer. His tenor playing is always just what it should be within the group, that is to say -as I have said to him before - Pat can sound like whomever he needs to while maintaining his own musical character.
His credentials include stints with Al Jarreau, Al Green, Rufus Thomas, Kirk Whalum, Toto and Survivor. Pat is an original member of Memphis recording group VooDoo Village, something he shares with Niko, Steve and Dave, and that group released two high charting recordings that are still popular. Not only that, but he is a 5 .dan Kendo Instructor.
Born and raised in Memphis, TN, drummer Steve Potts has a storied background. Watching his older brother Paris (Alvin) Potts, and his cousin Al Jackson, Jr. inspired Steve to play drums.
Over the years he has been honored for his work with the likes of Willie Mitchell and Hi Records, recording with Pop Staples, Al Green, Marti Pellow, Ann Peebles, Otis Clay and more. He has toured with Greg Allman, Crosby, Stills, Nash & Young, Issac Hayes and Neil Young just to name a few, and after the tragic death of Al Jackson he became drummer for legendary Stax Records group Booker T and the M.G.'s. Grammy nominated music producer Jason Clark is a diverse arranger, choirmaster, and keyboardist.
He is the Executive Director of the Tennessee Mass Choir. He began his musical career at the age of 16 and his recording and performing credits include working with artists like Kirk Whalum, Martina McBride, Foreigner, Howard Hewitt, and many others of all genres of music. He produces and arranges music for stage plays, movie soundtracks, TV shows and commercials for major clients like the Hilton Corporation, Merry Maids and McDonald's.
Memphis bassist, arranger and producer David "Dave" "Davey" Smith is originally from Blytheville, Arkansas and ultimately landed in Memphis. He has worked as a session and touring musician with a host of major players including Wilson Pickett, Kris Kristofferson, Rita Cooledge, Buddy Guy, Steve Cropper, B.B. King, and many others. A diverse artist, his musical talents cross all genres of music with a skill that can only be called ultimately professional.
This group of musicians is "The Justus Brothers" and as you can imagine, only great music can come from this many talented musicians. Add guest appearances by Latin percussionist Billy Ramirez and Memphis trumpet master Scott Thompson and you get a disk that is sure to entertain for many years to come.
This album will probably be classified as smooth or neo-jazz, but it is much more than that. It is much more than any label can describe. The performances on these tracks are loaded with soul. I think you will agree, this one is a winner.