Keiko Matsui
Feature CD Review: Keiko Matsui's "Echo"
For Release: March 10, 2019
Review by Malvin Massey, Jr., 3/10/2019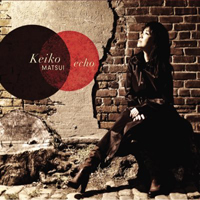 The Feature CD Review is from internationally acclaimed, pianist, composer and humanitarian Keiko Matsui, and her new CD is entitled Echo.
Keiko has been performing and composing great music for a long time. Her music is usually classified as smooth jazz, but it is much more than that.
Keiko is a skillful composer, and a very emotionally sincere artist. There is passion in her work. It is, as Duke Ellington said, "beyond category."
Born in Tokyo she began her studies as a pianist at the age of five. Japanese tradition holds that a child who is introduced to lessons at this time will continue in those studies for a long time.
The tradition held true for Keiko. Her early training focused on classical music, and in junior high school she developed an interest in jazz and began to compose her own music.
In 1987 she recorded her first solo album with her husband Kazu Matsui. Over the years she has performed with some of the most noted of American jazz artists, especially with Kirk Whalum as when she toured with his Gospel According to Jazz Christmas. She has worked with Bob James, and many others.
On this new album, on which she has composed all the tracks, she has enlisted the services of Kirk, Marcus Miller, Randy Waldman, Robben Ford, Gretchen Parloto, Kyle Eastwood, and a host of other well-known jazz artists. The sounds of her music are wide and varied. There are lovely ballads, exciting smooth jazz, enticing Latin jazz and more.
This is music that is comfortable, understandable, and fun. We would be remiss if we did not make this one a Feature CD.