Larry Fuller
Feature CD Review: Larry Fuller's "Overjoyed"
For Release: May 13, 2019
Review by Malvin Massey, Jr., 5/13/2019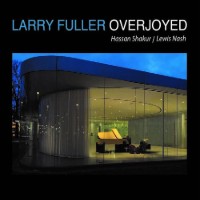 The Feature CD of the Week is from New York Based jazz pianist Larry Fuller. The album is titled Overjoyed.
Larry Fuller began his musical career at the age of 11. A native of Toledo, Ohio, he was mentored by Floyd "Candy" Johnson, a saxophonist and veteran of both the Count Basie and Duke Ellington Orchestras.
Johnson began hiring Fuller for paying gigs when he was 13 and 14 years old, working in nearby Detroit and Ann Arbor. By 1988 he had moved to Seattle to work with legendary jazz vocalist Ernestine Anderson.
He served as her pianist and musical director for 6 years, touring and performing around the world. He was the pianist on her Grammy-nominated CD Now & Then.
In 1994, he joined the Jeff Hamilton Trio with which he toured and recorded several albums. From there, he formed the Larry Fuller Trio and in 1998 recorded his own CD titled Easy Walker which featured the great Ray Brown on bass and Jeff Hamilton on drums.
This release won the Northwest Album of the Year award for 2003, and a Golden Ear Seattle Jazz Award as well. In 2000, he had joined the Ray Brown Trio and performed with Brown until his death in 2002.
From 2005 till 2013 he performed as part of the John Pizzarelli Quartet, touring and recording with the great guitarist. He has since been touring and performing and recording with his own trio and this CD is his second release on the Capri Records label, following his critically acclaimed, self-titled 2014 release.
Along with all the great jazz artists mentioned before, over the years Larry Fuller has performed with many legendary jazz artists, and he has continued to develop a polished and innovative style of jazz piano that is the essence of straight ahead jazz.
Although his work as a sideman and a leader have taught him the "ways of the jazz world" of the past, his sound is so easy and skillful that you will immediately feel that you are listening to one of those legendary pianist we are so familiar with.
With Hassan Shakur on bass and Lewis Nash on drums, this album is a tribute to Fuller's experiences over all the years of performing. Along with 2 of his original tunes, he is playing tracks from Wes Montgomery, Ray Brown, Oscar Peterson, the Gershwin brothers and Stevie Wonder, each done in Fuller's steady, relaxing groove.
This is, as I like to call it, a great "cocktail hour" CD that you just put on and enjoy.