Michael O'Neill Quintet
Feature CD Review: Michael O'Neill Quintet's "Pacific Standard Time"
For Release: June 30, 2019
Review by Malvin Massey, Jr., 6/30/2019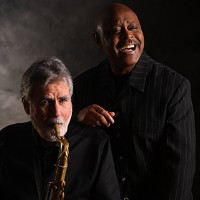 The Feature CD Review is a fantastic portrayal of elegant jazz. It is titled Pacific Standard Time and the group is the Michael O'Neill Quintet with Tony Lindsay.
This album is a true work of art. There are no original tunes, its content is drawn from The Great American Songbook, but don't think for one minute that the songs will be passe.
The arrangements of these classics are so well done that you will think you are listening to these songs for the first time.
O'Neill is a San Diego native who began his musical life studying clarinet at an early age. He played in school bands and orchestras, and did a stint in the Air Force Band.
It wouldn't be fair to call him a saxophone player, but rather he is a woodwind master performing on tenor sax, clarinet, bass clarinet, and flute on various tracks throughout this CD.
In college he majored in biology and minored in music while giging to help support himself. On graduation he began a career as a biologist and did graduate school work at Texas A & M on insect physiology.
Still performing as a musician, he finally decided to pursue a music career and returned to the Bay Area, studying with the great Joe Henderson. He became interested in composition and formed groups to perform his original works.
Over the years he has worked with a plethora of jazz artists, maintaining his own groups and writing, arranging, recording, and performing in the Bay Area.
The group on this CD has been together for a long time. Alan Hall is the original drummer, Dan Feiszli began as recording engineer and co-producer of their music and is now the regular bassist, John R. Burr is the pianist, a long time friend of Michael and a band member since 2006, and trumpeter Erik Jekabson joined in 2011 making him the newest member of the group.
O'Neill says that "everyone in the quintet contributed arrangements to this project."
It is the groups 4th recording. On vocals is Tony Lindsay.
If you have ever been a fan of Santana, then you have heard this voice. He spent 25 years as lead vocalist for Santana. He has garnered 11 Grammy Awards traveled on several world tours, and recorded on 7 CDs.
Tony is also a songwriter with his songs recorded by the likes of The Whispers, Tevin Campbell, Howard Hewitt, and others. He now records and performs in the Bay Area, and with most of his credits in R & B, pop music, his jazz chops are on full display with this recording.
All in all, this CD had to be featured for no other reason than it is a magnificent piece of musical art that must be enjoyed by anyone who craves the sound of good jazz.