Peter Clark
Feature CD Review: Peter Clark's "The 20-Man Music Machine"
For Release: March 31, 2019
Review by Malvin Massey, Jr., 3/30/2019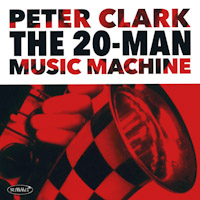 The Feature CD Review is from a well traveled pianist, vibraphonist, vocalist, composer, arranger, television personality and big band leader, Peter Clark. The album is titled The 20-Man Music Machine, and it really swings.
Peter Clark was born in England, raised in Australia, where he began studying classical piano at the age of ten. By the age of 16 he had moved to Sydney and begun a career as a commercial artist.
Still a musician at 17, he appeared on the Australian version of the "Amateur Hour" and was convinced that he would be a professional musician.
Over 45 years in the jazz business, he has performed all over the world with big band and small groups, and has accompanied a plethora of international jazz greats too numerous to name. Peter has lived in California since 1963 and his life has been a story of success in music and business.
This CD is something that he has wanted to do for some time, a big band album.
After explaining that he is grateful for such a rich and prosperous career, he says: "..to write for a big band, record with a big band, play with a big band, and then hear it all coming back at you - There Is Nothing Like It!"
He can be so excited about this big band experience after all this time performing is a credit to his youthful dedication to his craft.
This album is full of classic jazz ballads performed with a huge sound that is the essence of big band swing. The 20-Man Big Band is loaded with well, and lesser known jazz musicians from all over.
Their timing is flawless, the arrangements are full and strong while not being overwhelming. Listeners will recognize tunes like "Swansong," "When Johnny Comes Marching Home," "Caravan," and more chosen from different genres, but all swinging.
This one will make you feel good when you hear it.