Peter Drew
Feature CD Review: Peter Drew's "And What's More"
For Release: May 19, 2019
Review by Malvin Massey, Jr., 5/19/2019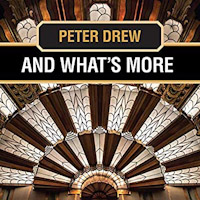 This Feature CD Review is from New York raised clarinetist, composer and arranger Peter Drew. The disk is titled And What's More.
This is project that had been in the making for two years. After the release of his album Where & When in 2016, Peter decided to take a break, or rather "rest on his laurels" as he says in the liner notes of the CD.
Further, he says:
"My creative juices dictated otherwise. I had more than 100 arrangements on paper plus a few original compositions bouncing in my head. My mentor Phillip Rothman, reminded me that I had lots of time to produce a second album, so after two years, here we are with: And What's More (finished in 2018, released 2019). A hint of an extension of the previous opus."
This is swing music at its best, with a wide variety of tempos and moods. Peter Drew accomplished a lot of living in a lifetime that was not dedicated to music.
He joined his high school orchestra as a teenager but nothing came of it. He bought a clarinet, played a little, but was still not really interested in music.
After a time in the military, and gaining a Master's Degree, he took on many jobs including film distribution, caterer, sailing instructor, cruise ship host, taxi driver, country club manager, and video operator. He finally started teaching with a specialty in film and social studies, but still felt as if something was missing. He bought a good clarinet and decided to take music seriously.
He took lessons, joined a symphonic band and got into classical and jazz music, studying with Sid Cooper and Danny Bank, both veterans of the big bands of Tommy Dorsey, Charlie Barnett, and Benny Goodman. He founded the St. Alban's Jazz Ensemble performing jazz and pop standards and before long, studying with composer Phillip Rothman, he began arranging and composing and loving every minute of it.
The rest, as they say, is history.
With a crew of great New York musicians, conducted by Ryan Keberle, this music will transport you into the 1940's, however, with Drew's fresh arrangements, the tracks are as fresh as they were when they were new. Add the 5 originals and you have a recipe for really swinging, dance-able music that can brighten your day, and make your toes tap.
We have enjoyed previewing it and expect that you will enjoy hearing it as a very "happy" Feature CD.