Raymond De Felitta
Feature CD Review: Raymond De Felitta's "Pre-War Charm"
For Release: September 8, 2019
Review by Malvin Massey, Jr., 9/8/2019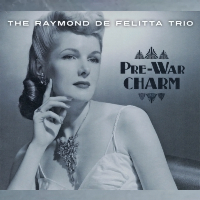 The Feature CD of the Week is from an Academy Award nominated filmmaker, who just happens to be an accomplished jazz pianist. His name is Raymond De Felitta, and it's a trio album titled Pre-War Charm.
It is music from what is referred to as the period between the wars (1919 to 1941) when American popular music flourished with composers from Broadway and Tin Pan Alley creating "The Great American Songbook" as we know it today.
Jazz artists began to play their altered arrangements of these great ballads, though not all the composers were pleased with these new interpretations of their music. It was also a time when composers like Duke Ellington, Fats Waller, and others found their voice while creating the progressive sounds of jazz that developed into the music we are so familiar with today.
De Felitta was a child prodigy pianist. He was the youngest member of the Maple Leaf Club, a country wide organization devoted to the preservation and performance of Ragtime music. Raymond studied music history at Bard College and as a straight ahead/bop player in his twenties, he played in many Los Angeles area clubs with many jazz legends.
His passion for jazz combined with his love of film making led to his documentary "'Tis Autumn: The Search for Jackie Paris," a study of the mysterious life of that classic jazz vocalist.
With this, his fourth CD, he has reached into the "Songbook" for tunes that are not being utilized so much by jazz artists anymore, giving them new life and energy. This album will introduce a whole new generation of music lovers to classics that "The Greatest Generation" heard in their original form, and the "Baby Boomers" heard as tracks in many of the movies that were rebroadcast on late night television in its infancy.
Classics like "My Heart Belongs To Daddy", "Drop Me Off In Harlem," "I've Got A Feeling I'm Falling," and more. The Raymond De Felitta Trio is Mike Alvidrez on bass, Paul Kreibich on drums, with Alex Budman on clarinet and sax on three tracks.
These musicians play this music with a passion and reverence for what great American popular music was in the days when perfection was required and preferred in great entertainment.
I hope that this music strikes you with the same excitement that it has struck us. I think we will really enjoy this one as a feature.