Sing a Song of Jazz
Feature CD Review: "Sing a Song of Jazz"
For Release: August 11, 2019
Review by Shelby McCall, 8/11/2019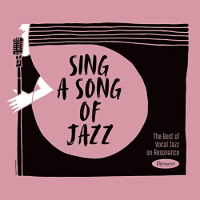 The Feature CD of the Week is another great album from Resonance Records, a progressive label dedicated to preserving the art and legacy of jazz. It's "Sing a Song of Jazz: The Best of Vocal Jazz on Resonance."
This album is a part of a set of label samplers to celebrate 10 years of great music, and this one expands on Resonance's catalog of amazing and legendary artists, including Sarah Vaughn, Polly Gibbons, Stan Getz, Joao Gilberto, Wes Montgomery, Shirley Horn, and much more.
I personally, had quite the fun time listening to this CD. Just like the last album we received from Resonance, you will marvel at the amazing talent presented on this disk. I hope that you too will enjoy and take delight in this Feature CD.