Stuart Redd
Feature CD Review: Stuart Redd's "Dreams To Reality"
For Release: May 5, 2019
Review by Malvin Massey, Jr., 5/5/2019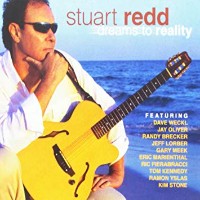 The Feature CD Review is from composer and multi-talented guitarist Stuart Redd. The album is titled Dreams To Reality, which was chosen by Stuart, because in his words: "It has been such an honor to have Jeff Lorber, Dave Weckl, Eric Marienthal, and other great artists play on my album. It has been a dream come true. Hence the title Dreams To Reality."
Growing up in Mississippi, Stuart got his first taste of R & B when his dad brought home a jukebox when he was 7. At 11 he pick up the guitar and started playing Rock & Roll.
By 19 he was performing with a touring band. He has since been a standard artist in the Smooth Jazz genre and has performed on many recordings with artists that are major players as well.
On this CD he employs the likes of Dave Weckl, Jay Oliver, Randy Brecker, Jeff Lorber, Gary Meek, Eric Marienthal, Ric Fierabracci, Tom Kennedy, Ramon Yslas, and even Kim Stone, former bassist for the Rippingtons.
The music on this album is really not Smooth Jazz per se, but is reminiscent of contemporary fusion of The Yellowjackets and Pat Metheny Group. These tunes are refreshing and entertaining. Jazz Lovers should all get a kick out of it.