Anything Goes with Lise Avery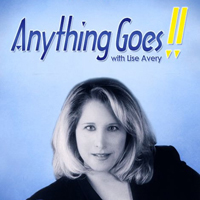 Anything Goes!!® is the flagship program of the Commercial with a Conscience® Network.
At Anything Goes!! we believe that mainstream radio has left the realm of entertainment and relies far too heavily on news, controversy, divisiveness and shock. It also repeats the same music and news over and over.
Anything Goes!! offers an alternative to much of contemporary radio programming. Our playlist is different. So is our attitude.
Our goal is to add a smile, lower stress, slow down a work day (or week) and broaden the listeners' minds. We not only love to play the classics, but our listeners tune in to be introduced to new artists that they love too. That means we play not only the music from the "big guys" and the "big labels," but we give a chance to unsigned and independent artists to be heard too!
Our programming includes a variety of jazz, standards, classic pop and artist interviews (with a little bit of almost anything else like some comedy or a TV or cartoon theme song). Anything Goes!! fills a large gap in the marketplace catering to those tired of Classic Rock, Pop, Lite Standards and Country.
While we appreciate and value each of our supporters and underwriters, we believe that to be responsible to our listeners and to our souls, our voice must be independent of our financial interests. We care deeply about the environment, human rights and our listeners and the ability to share those beliefs is what motivates us rather than our pocketbooks.
Commercial with a Conscience® uses advertising in the way it has always been used; to shape human behavior. But the intent of our messages is not to sell one hair color versus another, but rather to empower consumers like you to help change the world by providing them with the information they need to make those choices. With your help, we hope to expand Commercial with a Conscience® far beyond Anything Goes!! and create programming of all kinds that reaches all kinds of people all over the world.
We are glad that you are enjoying Anything Goes!! and hope that you will tell your friends about us and about Commercial with a Conscience®. With your participation as a listener and as a good-will ambassador, together we can help change the course of the media...and the planet.
With heartfelt thanks, Lise
For more information check out: AnythingGoesRadio.com