Sandeep Pednekar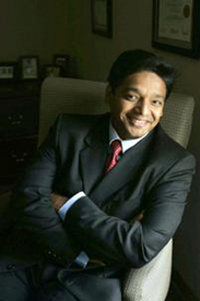 Businessman with a Flair for Community Service!
To promote harmonious relations between the Memphis Police Department and the citizens of Memphis, TN, USA, Sandeep Pednekar has been appointed on the prestigious "Law Enforcement Review Board" of the City of Memphis for a 4-year term.
The Talk show "1 Universe" is based on the non-profit "1 Universe, Inc." that fosters and encourages positivity through the promotion of Love, Peace and Harmony. Since its inception in August 2011, the radio talk show 1 Universe has a listener base spread all over the world and is thankful to several callers who call into the show live from different countries around the globe!
The host of the talk show is none other than Sandeep Pednekar, an Indian born American who puts his time, effort and energy towards the betterment of community through the promotion of positivity and optimism, spreading the message of Love, Peace and Harmony, while disseminating encouraging messages, inspiring anecdotes that stimulate confidence in listeners. The perspicacity of the on air communications motivate socio-cultural and economic uplifting, while boosting intellect from individuals and nurturing synergy from various groups and sects of the global community.
His 2-year, 2-term tenure serving on Shelby County Mayor's Young professional Council started from Jan 2012.
In December 2011, Mayor Mark Luttrell proclaimed the whole month of December as "1 Universe Month" for the entire County of Shelby, TN!!!
The accolades of its impact and positive reach portrays from the fact that since 2011, this US based non-profit, 1 Universe, Inc. has gone Global! "1 Universe, Inc." has offices in three other countries. With its world headquarters in Memphis, TN, USA, second in London, England and two offices in India, 1 Universe, Inc., is on the path to form more offices around the globe and is steadfastly set on the journey towards the promotion of Love, Peace and Harmony the world over!
The concept goes beyond mere advocating and publicizing stimulating thoughts and ideas. 1 Universe walks the talk and treats problems as challenges and comes up with hands on solutions for the community at large. The focus of action is to bring about these positive changes, ranging from Arts, Culture, History and Heritage on one end and Commerce & implementation of Business acumen on the other. All of this is skillfully accomplished while upholding stimulating and encouraging words of wisdom that foster heartening and cheering messages.
Sandeep Pednekar is result-oriented and overcomes obstacles with a positive attitude. His engineering background bestows him an analytical and logical mind to manage challenging projects by thinking outside the box. His pursuit of an MBA has also given him the ability to spot business potentials and to take calculated risks towards success in business management.
With advantage of strong educational and business foundation, passion for success in diverse ventures and the ability to reach out to people from diverse backgrounds, nationalities, races, and religions, he has gained phenomenal respect across the board.
Sandeep Pednekar is the host of the popular show 1-Universe aired on WUMR FM 91.7, affectionately called U92FM and streamed lived all over the world! The show 1-Universe is based on the non-profit 1 Universe that goes beyond mere talks on Diversity and Inclusion and gets people from all walks of life together under 1-roof to give back to the community and bring about positive changes in the city, county, state, the country and in fact the Universe. Hence the name 1 Universe!
BUSINESS ATRIBUTES:
Sandeep Pednekar is the CEO of Advent Enterprises, Inc., a firm that deals in Buying and Selling of Hotels. He is also the Area Manager with COMAC. He is a connoisseur in Commercial and Residential Real Estate with good knowledge in Mortgages. He has a career exceeding a decade of accomplishments in the business of construction, hospitality, and various facets of Commercial and Residential Real Estate. He has a proven record of trend-setting achievements in business, non-profit, community and social spheres. Being a CEO and Principal Broker of Advent Enterprises Inc. he has perfected the art of Business Consulting and prides his expertise in real estate acquisitions. Managing portfolios for private investors is his forte.
Sandeep is always on the lookout for new deals and market opportunities such as properties for sale or foreclosure. His skills involve identifying new investors/buyers for investments by negotiating/bargaining and collaborating details based on generated business, business forecast, future economic trends and socio-cultural developments. He is efficient in developing innovative financing techniques to facilitate successful completion of deals. He is competent in locating sites for new projects based on city and/or suburban forecasts, competitive assessment and trends based on market research. He has been the President of Multi Unit Moguls & DASK, a real estate development and construction firm. In this position, Sandeep worked on all complexities of housing projects including managing banks and attorney issues including arranging financing for investors. He orchestrated unique funding mechanism to handle foreclosure issues and to manage and skillfully handle irate vendors and contractors.
Sandeep has successfully guided potential investors through EPA surveys, city/county regulations necessary to avoid pitfalls. His expertise also involves analyzing financial and business potential of an investment and planning economic forecast for clients based on emerging opportunities for the region. Sandeep has successfully broken glass ceilings by implementing comprehensive strategies and creating growth opportunities for business partners, peers and employees. He precisely aligns client objectives with business goals through planning, development, strategic implementation, and execution of cost-effective solutions.
Sandeep is equally passionate about change for betterment of society and about creating opportunities to help people from diverse backgrounds. He has successfully organized fundraisers for non-profit events and has immense experience in promoting events through different media outlets. While serving as the City Commissioner with the City of Memphis, Sandeep has worked with undying perseverance to manage and motivate groups towards goal- oriented projects. When working as a part of the City Mayor's Office, City of Memphis, he has diligently worked with representatives in the state Capitol, including writing a bill, lobbying and having it signed into a law. Sandeep is a people's person with excellent social and inter-personal skills. He is a respected community leader. He is the Co-Founder and Ex-Chairman of the Greater Memphis Immigrant Task Force. He has served on the board of several leading and diverse organizations such as Leadership Germantown Alumni Association, the Germantown Baptist Rehab Hospital, the YMCA and the Taste of Memphis. He is associated with Leadership Memphis, the Ronald McDonald House, Habitat for Humanity, Memphis City Schools, Metropolitan Inter Faith Association and United Housing. He has also been involved in organization of several community events such a regional beauty pageants and festivals such as the Memphis in May, International Festival and India fest.
Sandeep has served as City Commissioner, City of Memphis, and Memphis City Beautiful:
It is the oldest government organization in the country that caters to several aspects of keeping the city clean & beautiful
He has worked with the Mayor's Office of Multicultural and Religious Affairs (OMRA):
It is the only city government office of its kind that caters to the issues of varies cultural communities, races and religions.
Helped the office in Organizing festivals of "Community in Love", "International Fest" and "Diversity Day" at Memphis City Hall; Worked on Title VI Committee and Public Relations Committee for the Mayor's office. He was part in promoting city events through several media outlets to make a positive impact. Directed people towards free government services
Co-Founder and Ex-Chairman, Greater Memphis Immigrant Task Force:
It is a non-profit organization set to compliment the Mayor's office to address issues concerning immigrants.
With the GMITF group arranged English as a Second Language (ESL) classes for immigrants, arranged and coordinated free legal services; guided immigrants to government and other free services, driver's permits, etc. Promoted events through all media outlets and promoted the causes and objectives of the organization. Worked with political bigwigs as well as City and County officials to implement and celebrate a combined Diversity day and a Diversity Conference to go beyond mere talk on diversity to promote REAL Diversity through recreation, food and serious understanding by implementing inclusion of diversity. At state level helped GMITF group campaign for a bill on legal adoption and have successfully crusaded to make it into a TN law. This involved getting several non-profits, for-profits, legal, religious and political leaders on board to share the morals of the cause and support the efforts towards changing the existing laws making a paradigm shift.
Board Member, Taste of Memphis: It is a non-Profit organization promoting tourism and highlighting the variety and assortments of restaurants in the city.
Steering Committee Member and Judge, Memphis In May International Festival: It is the biggest non-profit organization in North America hosting and honoring the arts, culture of several countries around the world and promoting bilateral businesses with those countries.
Served on the Steering Committee for India and Holland and as a Judge on several panels; promoted tourism. He has invited celebrities from various fields including arts, cultural performers from a foreign country, and political bigwigs from Washington D.C. as well as Hollywood stars to events. Worked with the Memphis Area Chamber of Commerce (now Greater Memphis Chamber) to promote business and exchange commerce between Memphis and the honored countries.
Community Board Member, Germantown Baptist Rehab Hospital
NCCJ and Diversity Memphis: Part in organizing international festivals and Diversity Walks to promote racial harmony and tolerance
Helped in organizing International Fests through Germantown Rotary Club
Arranged Volunteer packages/associated with/promoted/participated in the following:
Memphis City Schools: Mentoring Kids through "Our Children Our Future"
Metropolitan Inter Faith Association (MIFA): Meals on Wheels (Delivering Food to the old and feeble);
Facilitator, Common Grounds: Handling race relations in Shelby County
Habitat for Humanity: Building affordable housing with no interest or profit for low income families
United Housing: Building Low Income houses through affordable lending. Worked with Economic Development corporations and promoted housing fairs through various outlets.
Facilitator, Ronald McDonald House: Arranged for groups to volunteer for kids being treated for cancer at St. Jude. Coordinated fundraising activities for the cause of this non-profit organization
Leadership Memphis and Leadership Memphis Alumni & Leadership Germantown and Board of Leadership Germantown Alumni Association
Have successfully inspired business, socio-cultural, religious and political leaders to get on board with a vision to bring about positive changes in the local neighborhoods, city, county and state levels. Have got media heavily involved with the causes I am involved in
Economic, Community and Cultural Contributions: President and Trustee, India Association of Memphis: Served as President while I was a full time student at the University of Memphis pursuing MBA with major in Management Information Systems (MIS). Invited the youngest US representative for the very first function and started my stride of being featured on TV programs and news broadcasts on all channels and print media. Served the as President twice and Trustee for three years and handled various roles including editor of newsletter, marketing and introducing innovative ideas for the non-profit, skillfully handling trustee, committee and membership concerns, financing, budgeting, logistics and over all administration.
Founder, Chairman and Host, Regional Miss India USA Beauty Pageant: First and only event of its kind promoting self-confidence and volunteerism through Beauty Pageants in Five states (TN, MS, AR, KY and AL); successfully promoted event through all media outlets with political, business, socio-cultural leaders. Sandeep handled logistics, funding, advertisements, promotion and successful execution of pageants even without charging entry tickets. He has been offered to conduct beauty pageant nationally.
Board, YMCA: Healthy Kids Campaign; Youth leadership Program; Multicultural achievers Program; We Build People Campaign; Adopt A School Initiative; Applying for government and private grants.
Memphis Area Chamber of Commerce: International Business Council; Knowledge Enhancement Committee
National Contribution: Memphis Council for International Visitors
International Contributions: Founder and Chairman: Advent Bureau of International Leadership.
Civic Contributions: CAAP Inc.: (Cocaine and Alcohol Awareness Program Inc.) Guiding addicts to a drug free life;
COMEC (Commission on Missing and Exploited Children);
Women against Domestic Violence: Helping battered women and assisting against domestic violence.
Other Civic Contributions & Community Services: Honoring the heroes of 9/11; Veterans and Men & women currently in the US services at the Isaac Hayes Jazz Club in Peabody Place; Promoting varied culture and Heritage from different parts of the world
Public Relations Officer, Arya Samaj
Sandeep's involvement in business and altruistic endeavors has led to: Invitation from the Chief of Recruiting Head Quarter of the US Naval Base and to a US Nuclear Sub; Invitation from the India Ambassador to US to meet with the Prime Minister of India on several occasions. Invitation from Memphis Chamber to meet with Ambassadors from different countries; invitation to attend swearing in ceremony of Governor at the Capitol; present with Governor while signing predatory lending bills; Inter faith meetings and seminars; Invited by rotary clubs; Prestigious clubs, etc.