Asia Fench
Admissions Counselor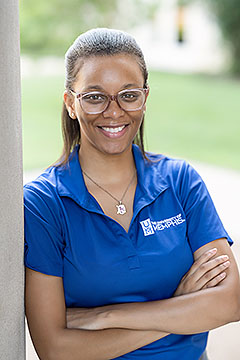 A little about me
I'm originally from Indianapolis, IN. I graduated from Indiana University with a Bachelors in Business Management. I'm currently working on my Masters in Student Affairs Administration from the University of Memphis. I love the diversity and rich culture of Memphis. I'm a proud Memphian and love to call Memphis home!
---
I assist students from:
States
Alabama, Florida, Georgia, Mississippi, North Carolina, and South Carolina
Tennessee Counties
Shelby (Public)
---
Things I'd recommend to do in Memphis
I recommend attending sport events and festivals in Memphis! I went to the Japanese Cultural festival in Memphis last year and loved it! I also love going to football games!
---
Opportunities available at the University of Memphis
U of M has over 700 scholarships and over 360 student clubs and organizations including Study Abroad!
---