Apply >

---
Are you driven to do more?
You've come to the right place, and you're not alone. Each year 1,000+ students transfer to the UofM to further their education, to advance their careers, to take part in ground breaking research and to find their new home. We offer our diverse student body countless ways to enhance their college experience and meet their academic and personal needs.
At the University of Memphis, you can choose from more than 250 program areas in 12 colleges and schools. Location is key as well, so you can choose to attend on-ground in Memphis, at the UofM Lambuth campus in Jackson, TN, or anywhere you'd like through our fully-online and nationally ranked program, UofM Global.
---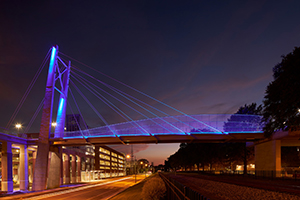 Transferring Credits
Will my credits transfer? Learn more and review the equivalency table.
Transfer Credit Guide >
---
The Application Process
You are considered a transfer student if you have attempted 12 or more credit hours at any college or university after high school graduation or high school equivalency completion. View our Admissions Requirements below to learn more.
View step-by-step instructions for
applying as a transfer student.
Ready to apply? Download this
checklist to track your progress.
Ready to apply? Start Your
Application.
Deadlines may vary for readmits, international students and specific programs (ex: nursing). View additional details and deadlines >
---
What's Next?

After You Apply
Apply to UofM ✔️
Wondering what happens next?
Next Steps >

After Admittance
Did you receive your acceptance letter?
Congrats! Complete these steps next.
Admitted Students >

Student Life
Get involved and make the most of your
college experience.
Check Out Campus Life >
Academic Support & Student Services
Counseling, tutoring and more services are available.
Support Resources >
---
Meet Your Admissions Counselors

Connor Bankey
Email: connor.bankey@memphis.edu
---
Get Connected
Follow @uofmemphis on social media to connect with fellow Tigers and stay up-to-date on news.
---
Frequently Asked Questions
We are excited to talk to you about the educational opportunities waiting for you at the University of Memphis! Currently we have a student body of nearly 22,000 and offer 17 bachelor's degrees in more than 250 areas of study as well as graduate programs in a number of disciplines. We are proud to have the largest Honors program in the State of Tennessee, as well as being No. 1 in online learning statewide.
YES! Over 1/3 of the student population at the University of Memphis enters with transfer credit! According to the National Student Clearinghouse, recipients of bachelor's degrees earn an average of $21,000 more per year than high school graduates. The fastest growing jobs in America require college degrees, and college graduates have lower unemployment rates. The University of Memphis ranks in the Top 10 for Student Internship Placement according to U.S. News & World Report, and we have the resources and people in place to help you get the job experience you need to move your resume to the top of the stack.
Classes that you have previously taken at other colleges or universities will be evaluated to determine course credit at the UofM. You can access our equivalency tables online for a quick look at the credit you are likely to receive.
You will receive course credit for all previous coursework that is eligible for transfer to the University of Memphis, and the UofM will recalculate your GPA for the purpose of admission based only on the classes eligible to transfer to the UofM. Therefore, our GPA calculation may be different than the calculation given at your most recent institution depending on the courses you have taken.
Your award types and amounts will vary between institutions depending on availability and cost factors. If you are transferring in the middle of the academic year, you will need to log into your FAFSA account and move the UofM to the top of your list. Then you can work with the Office of Financial Aid to see what types of aid you will qualify for at the UofM.