Jamie Staggs
Assistant Director of Out-of-State Recruitment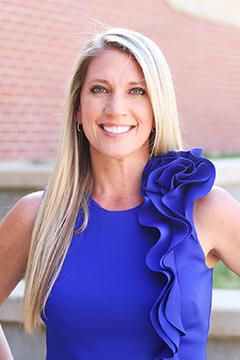 A little about me
My name is Jamie Staggs and I assist students from Illinois, Indiana, Iowa, Michigan, Missouri, and Wisconsin. My office is regionally based near St. Louis, Missouri. I graduated from Southern Illinois University at Edwardsville with a double major in Speech Communication and Mass Communication. I think students appreciate the innovation and creativity that can be found in our classrooms, plus they get to enjoy the amazing music, food, parks and entertainment that the city of Memphis can offer them.
---
I assist students from:
States
Illinois, Indiana, Iowa, Michigan, Missouri, and Wisconsin
---
Things I'd recommend to do in Memphis
Make time to explore the Memphis riverfront, visit the Bass Pro Pyramid, stroll down Beale Street, enjoy live music performances and indulge in delicious barbecue. Cheering for our Tiger athletic teams is always a great time too!
---
Opportunities available at the University of Memphis
The University of Memphis offers students over 250 major concentrations, 300+ student organizations, 19 Division I athletic teams, 200 study abroad opportunities, theatre performances, an art gallery, soulful music from our Mighty Sound of the South marching band, and an internship program that is nationally ranked as a Top Ten program. Students will find endless opportunities to grow personally and professionally!
---