Johnterrious Hall
Coordinator of Strategic Recruitment, Engagement, and Outreach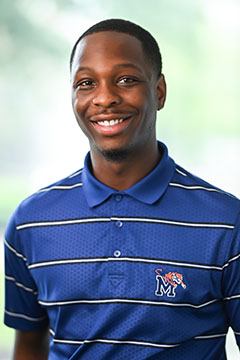 A little about me
I was born and raised right here in Memphis TN. I have a master's degree in public administration from The University of Tennessee at Chattanooga. I enjoy assisting students as they prepare for their educational journey and am excited to meet you!
---
I assist students from:
States
Nebraska, Utah, and Wyoming
Tennessee Counties
Middle TN area
---
Things I'd recommend to do in Memphis
Memphis is a city with a lot of spirit. Aside from a Grizzlies or Tigers game, spending some time in the Cooper-Young area or simply hanging around downtown is usually a fantastic time. Incoming students are encouraged to explore the bluff city, enjoy the southern hospitality, and dine in the fantastic restaurants!
---
Opportunities available at the University of Memphis
Students at the University of Memphis have the opportunity to learn and be a part of a welcoming environment. The sky is the limit with a wide range of undergraduate majors to choose from, including arts, health sciences, engineering, and business
---