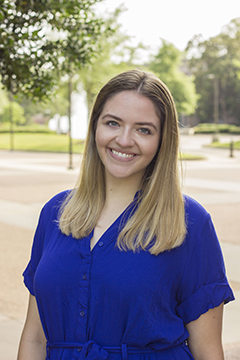 A little about me
As a Memphis area native, I have always loved the city and community of Memphis! I graduated from the University of Memphis with a major in Communications with a focus in Film and Video Production and minors in Photography and Creative Mass Media. As a former student of the UofM, I was able to experience Memphis in a totally new way during my college experience. My favorite thing about being a Tiger is the incredible internship opportunities. Don't forget to explore the city, find your new favorite restaurant or store, step out of your comfort zone and begin your next chapter.
---
I assist students from:
States
Washington DC, Virginia, Idaho, Florida, Mississippi, South Carolina, and Virginia
Mississippi Counties
DeSoto, Marshall, Tunica, and Tate
Tennessee Counties
Shelby County (Private and Municipal Schools)
---
Things I'd recommend to do in Memphis
Eat! There are so many awesome and locally owned restaurants to try with friends after studying.
---
Opportunities available at the University of Memphis
The location! The city of Memphis has so many opportunities for growth as an individual and a student.
---