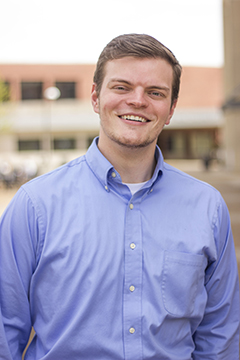 A little about me
I was born and raised in Springfield, Tennessee but I am proud to call Memphis my home now. I am alumnus from the University of Memphis with a bachelor's in Sport and Leisure Management. My favorite thing about Memphis is there is always something to do, no matter your interests. You could catch the Tigers play football or basketball, you could go to one of the many restaurants in the Memphis area, you can visit historic Beale Street, or you could go for a nature hike at Shelby Farms! Take it from a former student, you have to see for yourself how great Memphis is!
---
I assist students from:
States
Ohio, Oklahoma, Kentucky, and Oregon.
Tennessee Counties
Anderson, Bledsoe, Blount, Bradley, Campbell, Cannon, Carter, Clay, Cocke, Coffee, Claiborne, Cumberland, Dekalb, Fentress, Franklin, Grainger, Greene, Grundy, Hamblin, Hamilton, Hancock, Jackson, Jefferson, Johnson, Knox, Macon, Marion, Meigs, Monroe, Morgan, Overton, Pickett, Polk, Putnam, Rhea, Roane, Sevier, Sequatchie, Smith, Sullivan, Trousdale, Unicoi, Union, Van Buren, Warren, Washington, and White.
---
Things I'd recommend to do in Memphis
Going to Memphis sports festivities like seeing the Grizzlies, Redbirds, Memphis Open, St. Jude Classic, and of course... THE TIGERS!
---
Opportunities available at the University of Memphis
The campus provides an opportunity to get involved with your interests, while also expanding your horizons. The city of Memphis provides a vibrant metropolitan atmosphere with a sincere love for the University of Memphis.
---