Build Together
Together we can help create opportunity. At the University of Memphis, we like to say that we are Driven by Doing. It's more than a slogan. It's a commitment to being focused on programs that provide our students with real-life experience and hands-on learning opportunities. As our partner, you'll not only help us attract bright minds to our region, but you'll also give them real-world experience in order to be career-ready at graduation. Let's work together to strategically expand your footprint and connections within all facets of the UofM
Our goal is to draw talented students to our city and build a stronger regional talent pool through initiatives like our professional internship program. Ranked by U.S. News & World Report as a top 10 program in the nation, this effort places more than 5,000 UofM students in schools, hospitals, businesses, government agencies and nonprofit organizations each semester.
With 38 percent of our population being first-generation college students, it is important that we provide the support they need to persist and complete their degrees and to be career-ready at graduation. Our groundbreaking Office of First Generation Student Success helps these students find lasting success through training and mentoring, beginning when they first step foot on campus.
When your company partners with the University of Memphis, you are connecting with an outstanding diverse workforce pipeline of Tiger Talent. Our students are some of the brightest in the nation. Whether you are looking for an intern, fellow, full-time or short-term employee, we can connect you to skilled students and alumni. We want to work with you to find the best fit for your company.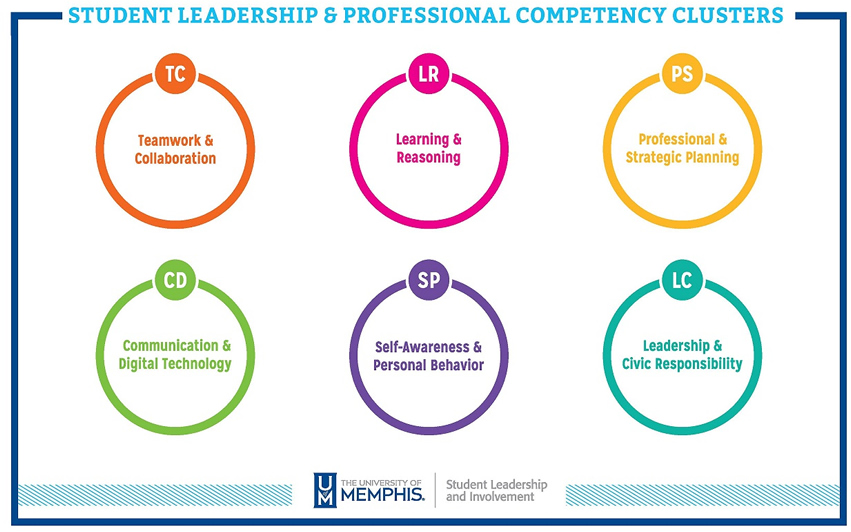 Student Leadership and Professional Competencies
Research shows that competencies across six key areas can improve student retention, engagement on campus and graduation rates. These competencies are a central driver in student leadership programs at the UofM, which also ensure that students have the skills required to thrive professionally after graduation.
Career Services
Career Services offers employers several opportunities to extend its on-campus brand and engage students, faculty, and staff. Employers can conduct on-campus interviews with students for internships and full-time job opportunities. The UofM offers more than 250 fields of study across 13 colleges and schools that are organized into Tiger Talent Communities. Each community is served by a career specialist who prepares students for career and internship opportunities and streamlines employer access to students, faculty, and staff. Campus-wide, all majors career fairs as well as academic department specific fairs are held each semester. TigerLink is the UofM's network of job and internship listings that connects students and alumni to more than 2,500 recruiters in a variety of industries across the country. Learn more about the UofM's Career Services >
Avron B. Fogelman Professional Development Center
If you are thinking of hiring an intern, we encourage you to join the Fogelman Internship Network (FIN). An effective talent search strategy is vital to the growth of your company, and we can offer a broad support system to help bolster your networking efforts. There are various ways to get involved. You can make a presentation to students about career opportunities within your organization. You can also host a networking event where you can meet and get to know students in the Fogelman College of Business. Learn more about the Center >
Herff Career Services
The Herff College of Engineering Career Services provide students with relevant engineering work experience through a paid Cooperative Education/Internship Program. Many of Herff's industrial partners provide on-site training for student interns in hopes of hiring them after they graduate. If you are a company that would like to establish a co-op or internship program, please contact us. Learn more about Herff Career Services >
Companies are rising to the challenges we face today and a partnership with the University of Memphis can help to achieve your corporate goals, build a sustainable and inclusive future, and accelerate innovation inside of the company. The University of Memphis is the largest research institution in the region with over 40 nationally ranked academic programs and a strong track record of creating innovative approaches to public—private partnerships. Together we can build a partnership that grows talent, opportunity and innovation for your company that maximizes return on investment while generating a new wave of big ideas.
The top challenge for our students is covering the financial costs to attend college, which creates significant barriers to graduation. To combat this challenge, UofM founded UMRF Ventures to create jobs for full-time undergraduate and graduate students by providing third-party IT service and support to area corporations. The goal is not only to help students with tuition and living expenses, but also to improve the overall graduation rate and create a talent pool to address employment gaps within our home city. Learn more about UMRF Ventures >
The University of Memphis makes significant contributions to the Tennessee economy. Graduates provide knowledge and leadership for state industries, and researchers develop new products and discover new ways to improve productivity. Through outreach, faculty work directly with clients to provide information and to solve problems. The investments the University makes in its students, faculty and facilities are reflected in graduates' interest to stay in the local area. Nearly two-thirds of graduates take up residence in Memphis for more than 10 years after entering the workforce.
Additionally, over 80 percent of graduates remain within the State of Tennessee during the same timeframe. High retention rates translate into a strong labor pool of highly educated prospects for local businesses. This also means the state retains the value of its investments in human capital. A single University of Memphis graduating class increases incomes within the State of Tennessee by nearly $110 million annually. During the past decade, graduating classes earned a combined $2.1 billion statewide. As the University continues to grow, these graduate-based earnings impacts will naturally follow suit. Importantly, the University recorded its largest graduating class in school history in 2020.
Beyond the University's ability to diversify and improve the quality of the state and local workforce, the broader economic contributions are notable. From an operational perspective, the University contributes nearly $1.1 billion in economic activity annually, supports nearly $500 million in wage and salary payments for local workers and is directly or indirectly responsible for approximately 9,900 Memphis-area jobs. During the past five years, the University accounted for $4.8 billion in economic output and $2 billion in wages. It is important to note that every $1 in economic activity translates into $1.87 in total impact in the local economy.
The links below have been created as resources for our business partners and others interested in doing business with the University of Memphis.