Prof. Brandon Davis
Adjunct Faculty, Journalism and Strategic Media
Office
300 Meeman Journalism Building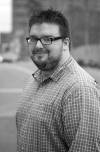 Education
B.A., English, University of Memphis
About Prof. Brandon Davis
Prof. Brandon Davis has produced award-winning advertising in the Mid-South for more than a decade. As Senior Copywriter at inferno, a Memphis-based marketing agency, his creativity and voice bring life to brands across a number of industries.
Prof. Davis is excited to bring his passion for advertising back to his alma mater. He seeks to spark an interest in the industry for a younger generation — as advertising becomes more and more integrated into everything we do, it's this generation that will be responsible for the truth, beauty, and power that good advertising brings to our lives.
In addition to his love for copywriting, Prof. Davis enjoys writing short stories and spending time with his wife and two sons.