Thomas J. Hrach, Ph.D.
Professor
Office
308 Meeman Journalism Building
Office Hours
As posted on syllabi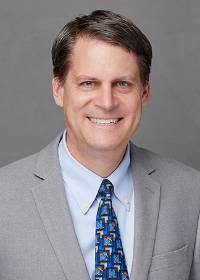 Education
Ph.D., Mass Communication, Ohio University
M.A., News Journalism, Kent State University
B.A., History, University of Michigan
About Dr. Thomas J. Hrach
Thomas J. Hrach's journalism career includes working as an editor and reporter at The Marietta Times in Marietta, Ohio, for more than 18 years before returning to school in 2005 to pursue his doctorate degree. His passion for journalism started young as an avid newspaper reader in his hometown of Cleveland, Ohio. As a reporter and editor in Ohio, he won several awards for his writing that included reporting on politics, crime, and business.
Hrach received his undergraduate degree in history from the University of Michigan in 1985, and he earned a master's degree in news journalism from Kent State University in 1990. While an editor at The Marietta Times he began teaching part-time at a local community college, which lead to a teaching associate position at Ohio University. He completed his doctorate degree in mass communication in 2008.
After graduating from Ohio University, he moved with his family to Memphis, Tennessee, where he started his teaching career at the University of Memphis Department of Journalism and Strategic Media as an assistant professor. He was promoted to associate professor in 2014, and he currently is the department's graduate coordinator.
Hrach researches journalism history with a focus on the 1950s and 1960s. His most recent publication was Beyond the Bounds of Tolerance: Commercial Appeal Editorials and the 1968 Memphis Garbage Strike, which appeared in the spring 2015 edition of Journalism History. He also has research articles published in Journalism History, Newspaper Research Journal and The Tennessee Historical Quarterly. He has contributed articles to two published books - The New Encyclopedia of Southern Culture, and African Americans in the History of Mass Communication. In 2016, the University of Massachusetts Press published his book The Riot Report and the News: How the Kerner Commission Changed Media Coverage of Black America.
Hrach teaches journalism history, writing and reporting courses. In May 2014 and May 2016, he was a guest professor at The Johannes Gutenberg University in Mainz, Germany, as part of an exchange program. He is currently working on his German language skills.
As well as teaching, Hrach is the faculty advisor for the U of M student chapter of the Society of Professional Journalists and chair of the Student Publications Board, which oversees The DH.com. His involvement on campus includes the library committee and the athletics advisory committee. For more information, visit his website at tomhrach.wordpress.com.