Prof. Tori Cliff, M.A.
Assistant Professor of Practice
Email
tmcliff@memphis.edu
Office
Varnell-Jones 206, Lambuth Campus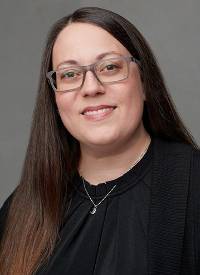 Education
B.A., Journalism, Middle Tennessee State University
M.A., Journalism, University of Memphis
About Prof. Tori Cliff
Prof. Tori Martin Cliff fell in love with journalism during high school. The school she attended secured a grant and began offering radio & television broadcasting classes during Cliff's junior and senior years. Cliff learned how to think creatively and strategically, film, edit, and serve as an anchor for the school's internal news channel.
She went on to earn a B.A. in journalism from Middle Tennessee State University (MTSU) in 2004. During her time at MTSU, Cliff met fellow student and Jackson Tennessee native, Dr. Brad A. Cliff, and the two married upon graduation. Prof. Cliff's husband secured a position as chair of the health and human performance department for Lambuth University, then located in Jackson, Tennessee, and the couple moved to Jackson. At that time, Prof. Cliff secured a position as marketing coordinator for a local credit union and went on to pursue her master's in journalism. She earned her M.A. in journalism from the University of Memphis in 2010.
During the various roles Prof. Cliff has held during her career, she has served as a writer, editor, designer, media buyer, strategic planner, marketing coordinator, social media task force leader, competitive analysis researcher and event planner. Among her various appointments, Prof. Cliff served as director of marketing and public relations for Stillman College in Tuscaloosa, Alabama, and director of communication at Jackson State Community College in Jackson, Tennessee. While working as director of marketing and PR for Stillman, she also served as journalism faculty for the college.
While Prof. Cliff enjoyed her time at Stillman, the Tennessee native could not pass up an opportunity to move back to the state that held both her and her husband's family and so many wonderful memories. After moving back to Tennessee, Cliff worked at Lane College teaching core journalism classes and core and upper-division classes in public relations.
Currently, she serves as journalism faculty at the University of Memphis and as an academic adviser for journalism students on the Lambuth campus. She also serves as Public Relations Student Society of America faculty adviser for the Lambuth campus. Prof. Cliff is currently pursuing a doctorate in educational leadership from the University of Memphis.
She also serves as a tnAchieves mentor and donates time designing and writing promotional pieces for several local non-profits.