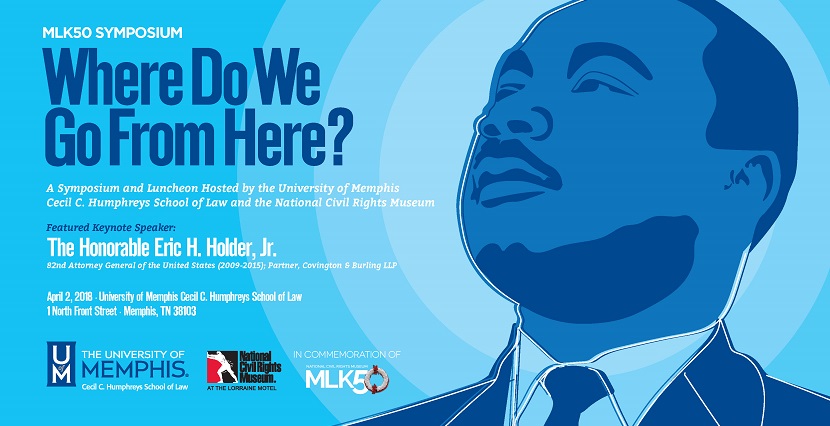 MLK50 Symposium: Where Do We Go From Here?
MLK50 SYMPOSIUM: WHERE DO WE GO FROM HERE?
A Symposium & Luncheon commemorating the 50th anniversary of Dr. Martin Luther King, Jr.'s death, hosted by the
University of Memphis Cecil C. Humphreys School of Law & the
National Civil Rights Museum
Monday, April 2, 2018
Featured Keynote Speaker: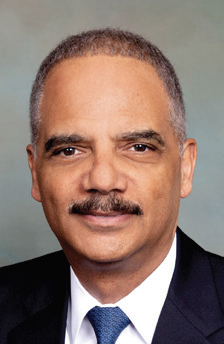 The Honorable Eric H. Holder, Jr.
82nd Attorney General of the United States (2009-2015); Partner, Covington & Burling LLP
The MLK50 Law Symposium on April 2 has reached capacity for our panel sessions and keynote luncheon. Registration has been closed at this time.
The University of Memphis Cecil C. Humphreys School of Law and National Civil Rights Museum will host Day 1 of the MLK50 Symposium to convene nationally renowned scholars, historians and thought leaders from across the country to present on the state of civil and human rights issues as well as racial and economic equity fifty years after Dr. Martin Luther King, Jr.'s death.
With former United States Attorney General Eric Holder as the keynote speaker at the symposium's luncheon, and featuring an array of nationally recognized panelists, this symposium will focus on the legal accomplishments, challenges, hurdles and opportunities related to aspects of Dr. King's legacy, including housing, education, voting rights, equal employment opportunity and the criminal justice system.
Featured panelists include Mark Osler, Toussaint Losier, Roy Austin, Tracey Maclin, Dayna Matthew, Debo Adegbile, Rick Hasen, Pamala Karlan, Sherrilyn Ifill, Dorothy Brown, Tomiko Brown-Nagin, Dorothy Roberts, Claude Steele, Beverly Tatum, Charles McKinney, and Cornell Brooks.
Panel discussions at the Symposium will be held at the Peabody Hotel in the Continental Ballroom; the luncheon and keynote speech by Mr. Holder will be at the Peabody Hotel Grand Ballroom.
PLEASE NOTE THE VENUE CHANGE FOR THE PANEL SESSIONS OF THE SYMPOSIUM. ALL MLK50 LAW SYMPOSIUM ACTIVITIES, PANEL SESSIONS AND KEYNOTE LUNCHEON, WILL NOW BE HELD AT THE PEABODY HOTEL.
Hosted by: