Fall 2016 Additional MOCH Events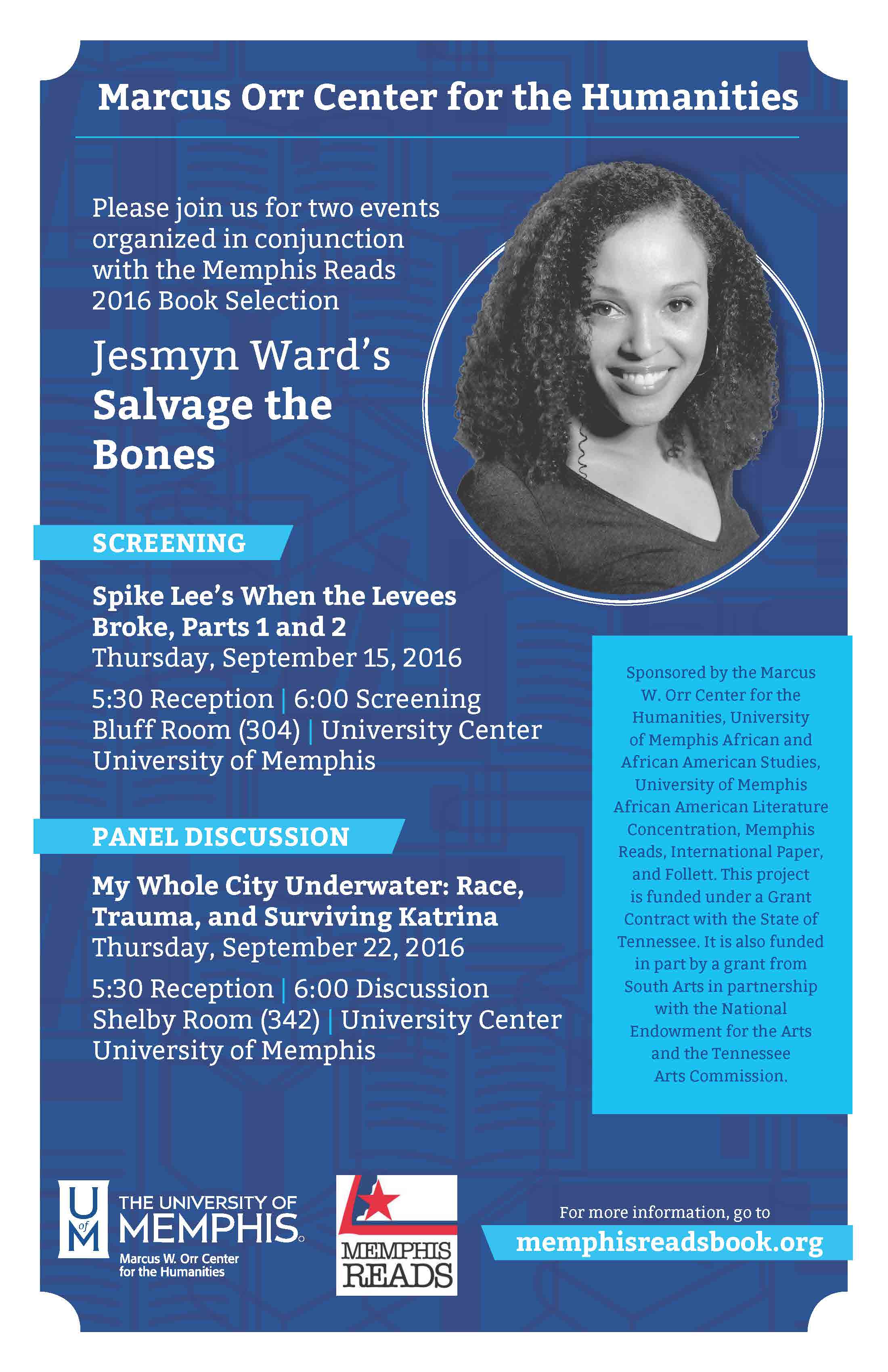 Screening: Spike Lee's When the Levees Broke, Parts 1 and 2
Thursday, September 15, 2016
5:30 Reception, 6:00 Screening
Bluff Room, 304 University Center, University of Memphis
Free and Open to the Public
Convenient Parking: Zach Curlin Garage
Panel Discussion: My Whole City Underwater: Race, Trauma, and Surviving Katrina
Thursday, September 22, 2016
5:30 Reception, 6:00 Discussion
Shelby Room, 342 University Center, University of Memphis Campus
Free and open to the Public
Convenient Parking: Zach Curlin Garage
These events will consider the meaning and impact of Hurricane Katrina. They are organized in conjunction with Memphis Reads, whose 2016 book selection, Salvage the Bones by Jesmyn Ward, focuses on the days before the storm hit in a poor, rural African American community on the Mississippi gulf coast.
Sponsored by: Marcus W. Orr Center for the Humanities, University of Memphis African and African American Studies, University of Memphis African American Literature Concentration, Memphis Reads, International Paper, and Follett. This project is funded under a Grant Contract with the State of Tennessee. It is also funded in part by a grant from South Arts in partnership with the National Endowment for the Arts and the Tennessee Arts Commission. For more information, go to www.memphisreadsbook.org.
---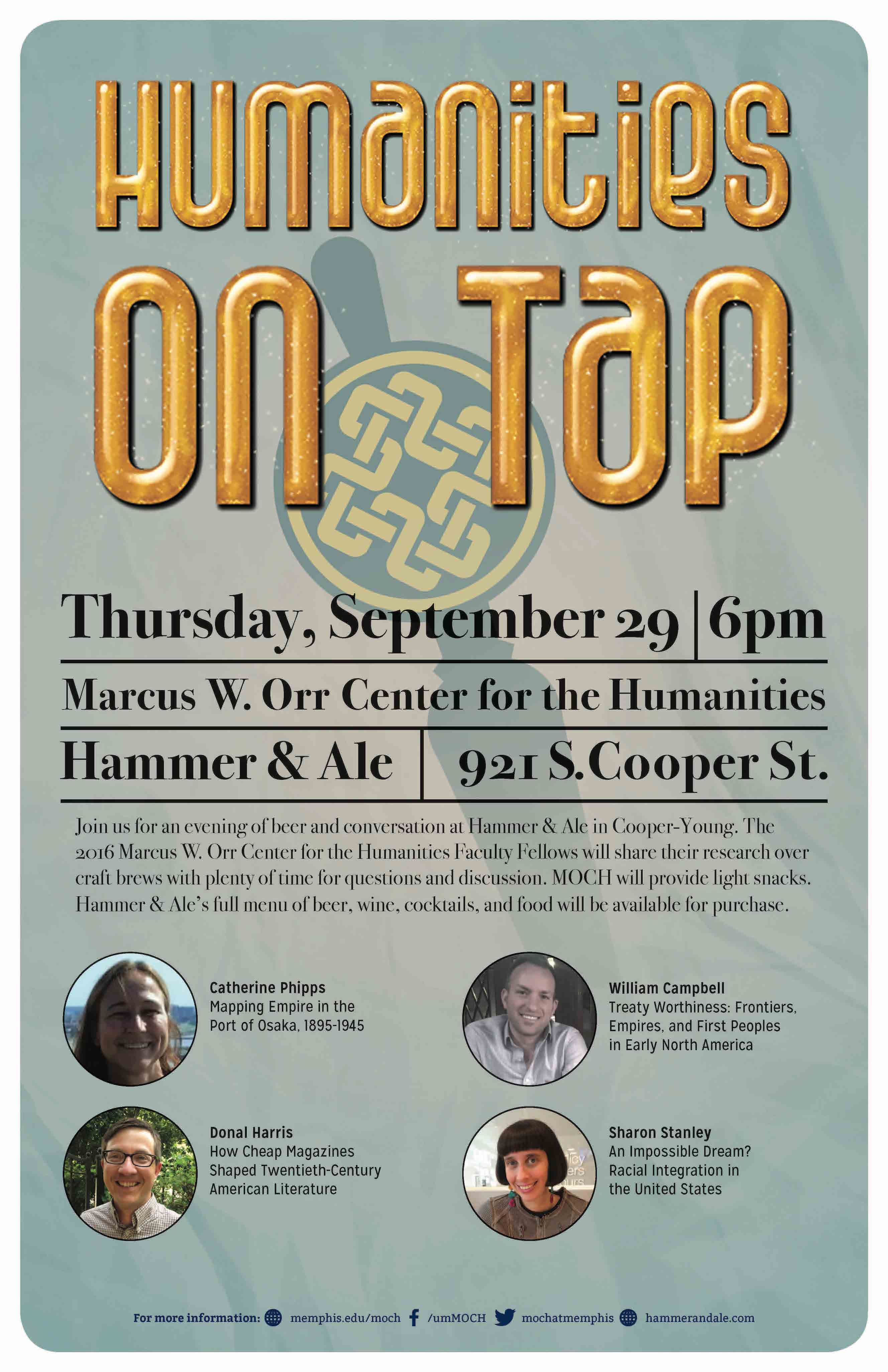 Thursday, September 29, 2016
6:00 PM
Hammer & Ale, 921 S. Cooper St.
Join us for an evening of beer and conversation at Hammer & Ale in Cooper-Young. The 2016 Marcus W. Orr Center for the Humanities Faculty Fellows will share their research over craft brews with plenty of time for questions and discussion. MOCH will provide light snacks. Hammer & Ale's full menu of beer, wine, cocktails, and food will be available for purchase.
William Campbell, Treaty Worthiness: Frontiers, Empires, and First Peoples in Early North America
Donal Harris, How Cheap Magazines Shaped Twentieth-Century American Literature
Catherine Phipps, Mapping Empire in the Port of Osaka, 1895-1945
Sharon Stanley, An Impossible Dream? Racial Integration in the United States
---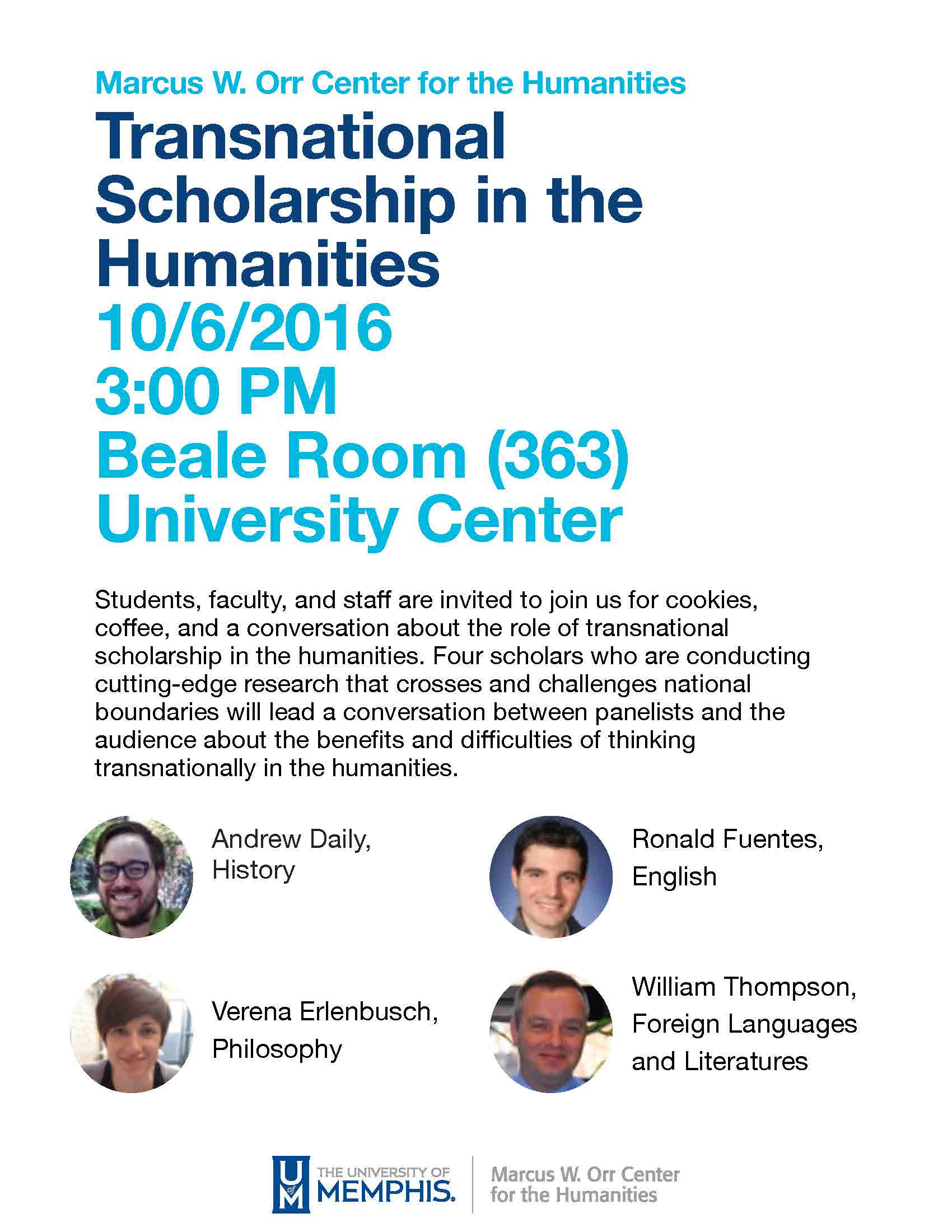 Thursday, October 6, 2016
3:00 PM
Beale Room, 363 University Center
Students, faculty, and staff are invited to join us for cookies, coffee, and a conversation about the role of transnational scholarship in the humanities. Four of our colleagues who are conducting cutting-edge research that crosses and challenges national boundaries will lead a conversation between panelists and the audience about the benefits and difficulties of thinking transnationally in the humanities.
Andrew Daily, History
Verena Erlenbusch, Philosophy
Ronald Fuentes, English
William Thompson, Foreign Languages and Literatures
---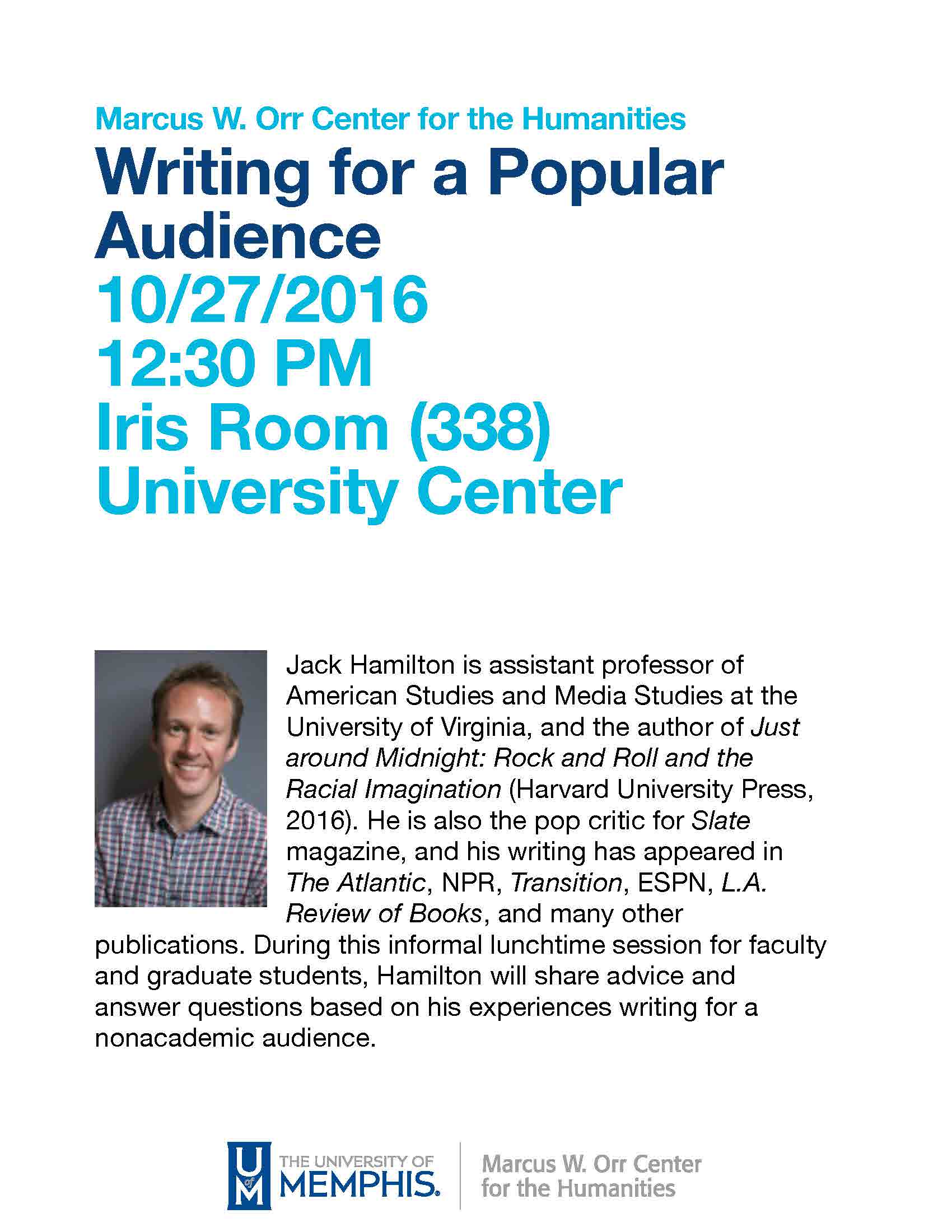 Jack Hamilton, University of Virginia
Thursday, October 27, 2016
12:30 PM
Shelby Room, 342 University Center
Join us for a lunchtime discussion about sharing your humanities research with a popular audience. Jack Hamilton is assistant professor of American Studies and Media Studies at the University of Virginia, and the author of Just around Midnight: Rock and Roll and the Racial Imagination (Harvard University Press, 2016). He is also the pop critic for Slate magazine, and his writing has appeared in The Atlantic, NPR, Transition, ESPN, L.A. Review of Books, and many other publications. During this informal session aimed primarily at faculty and graduate students, he will share advice and answer questions based on his experiences writing for a nonacademic audience.