Fall 2018 Additional MOCH Events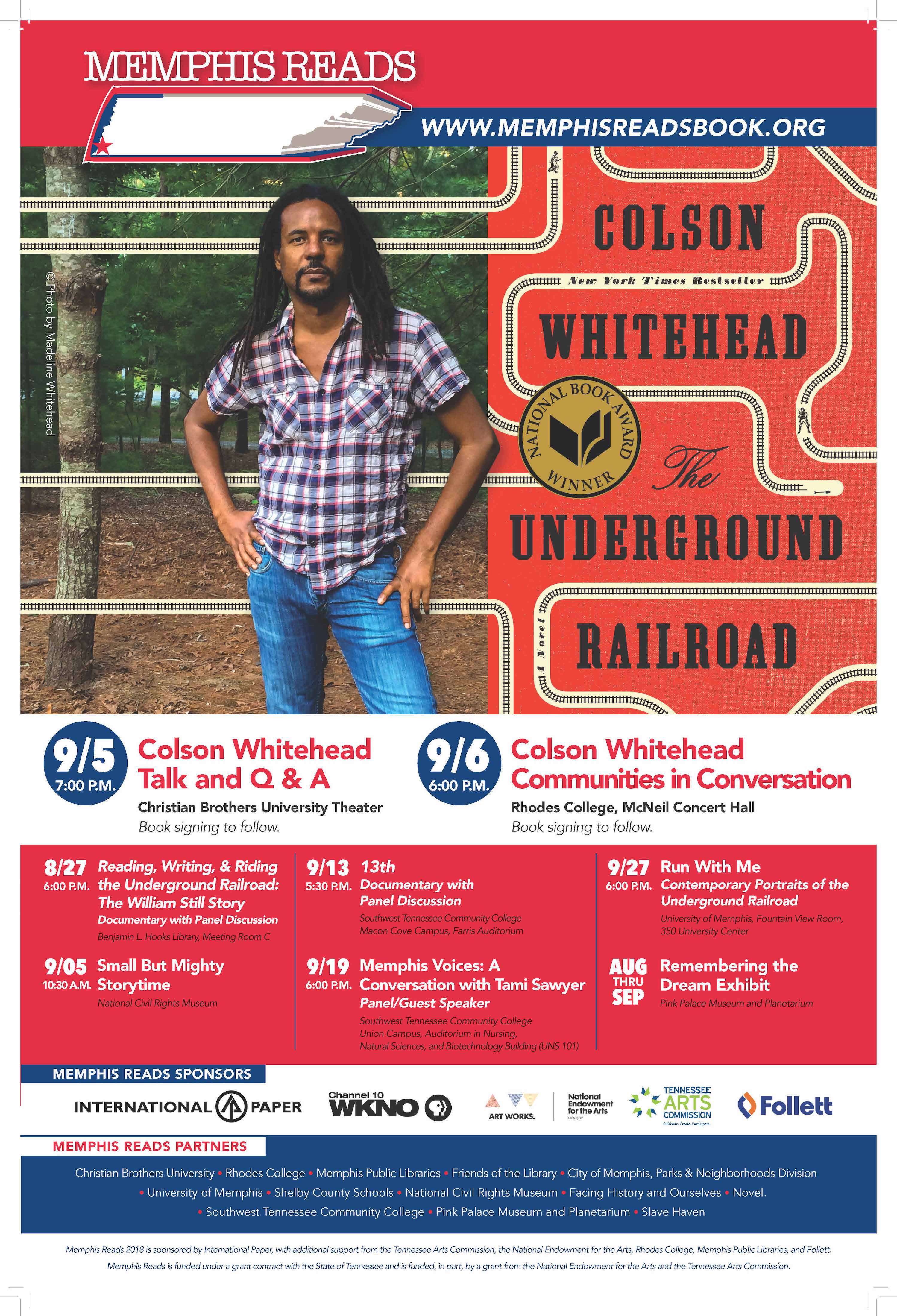 Panel Discussion: "Run With Me": Contemporary Portraits of the Underground Railroad
Featuring Dr. Shelby Crosby (English), Dr. Brian Kwoba (History), and Mr. Corey Reed (Philosophy PhD Student)
Thursday, September 27, 2018
6:00 PM
Fountain View Room, 350 University Center, University of Memphis Campus
Convenient parking in Zach Curlin Garage
Pizza and drinks will be served.
Explore portrayals of the underground railroad, past and present. This panel considers a variety of portraits of the underground railroad, paying special attention to why it is such a durable metaphor in American memory. It is part of the annual citywide Memphis Reads program, whose 2018 book selection, The Underground Railroad by Colson Whitehead, imagines the the underground railroad as a literal railroad to different racial regimes in a fictional antebellum American South.
Sponsored by: Marcus W. Orr Center for the Humanities, University of Memphis African and African American Studies, University of Memphis African American Literature Concentration, Memphis Reads, International Paper, and Follett. This project is funded under a Grant Contract with the State of Tennessee. It is also funded in part by a grant from South Arts in partnership with the National Endowment for the Arts and the Tennessee Arts Commission. For more information, go to www.memphisreadsbook.org.
---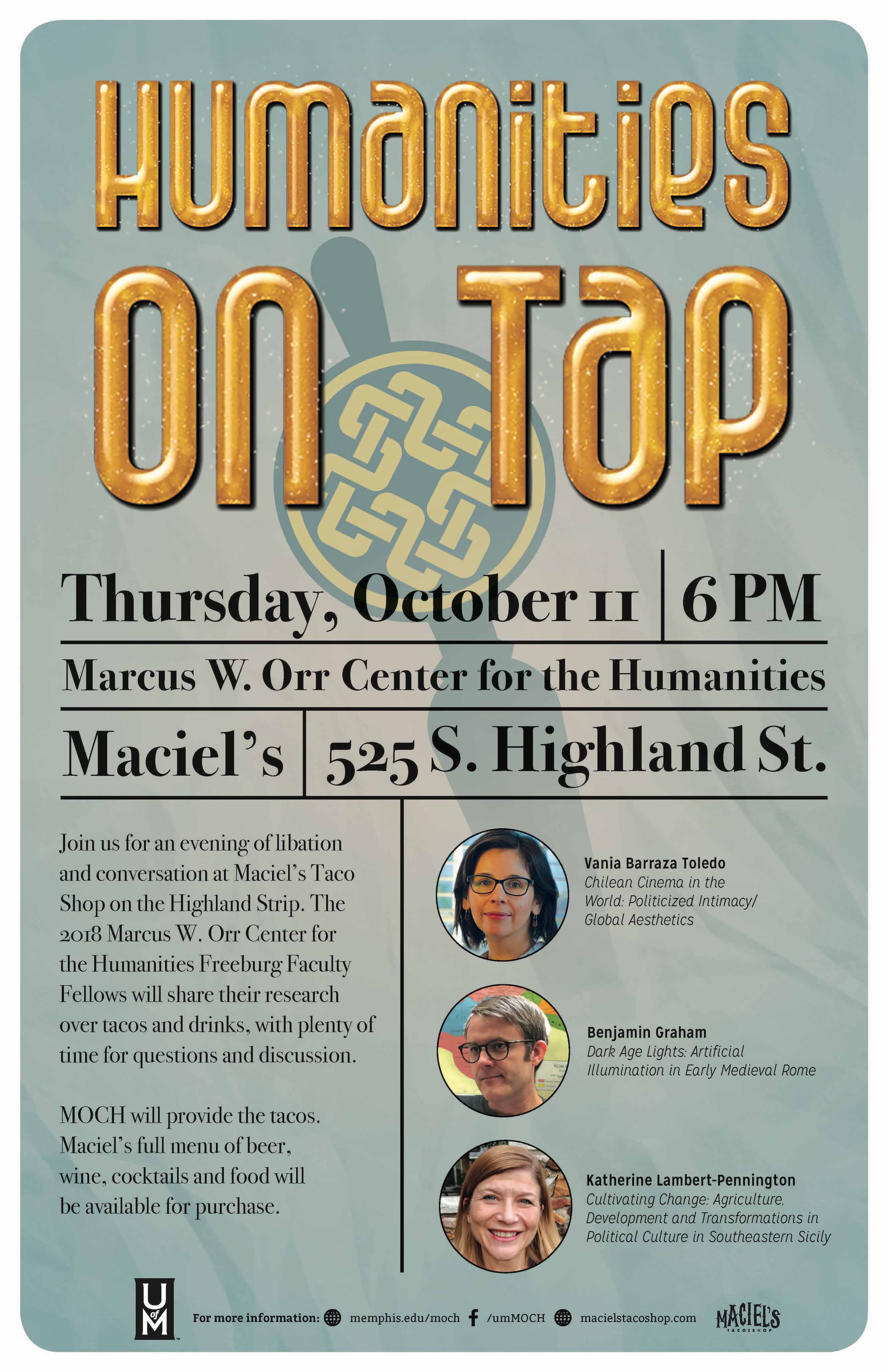 Thursday, October 11, 2018
6:00 PM
Maciel's, 525 S. Highland St.
Join us for an evening of libation and conversation at Maciel's Taco Shop on the Highland Strip. The 2018 Marcus W. Orr Center for the Humanities Freeburg Faculty Fellows will share their research over tacos and drinks, with plenty of time for questions and discussion. MOCH will provide the tacos. Maciel's full menu of beer, wine, cocktails, and food will be available for purchase.
Vania Barraza Toledo, Chilean Cinema in the World: Politicized Intimacy/Global Aesthetics
Benjamin Graham, Dark Age Lights: Artificial Illumination in Early Medieval Rome
Katherine Lambert-Pennington, Cultivating Change: Agriculture, Development and Transformations in Political Culture in Southeastern Sicily
---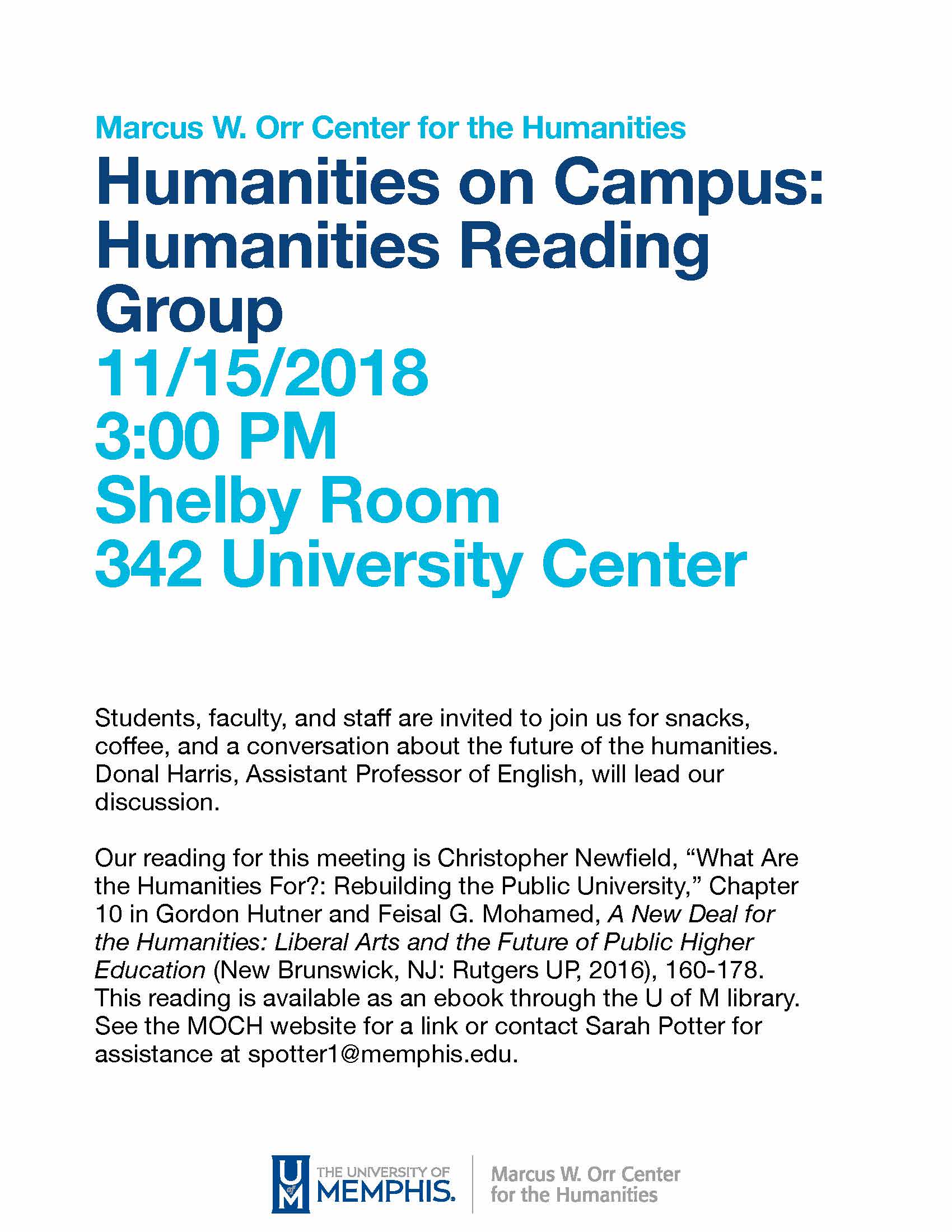 November 15, 2018, 3:00 PM
Shelby Room, 342 University Center
Students, faculty, and staff are invited to join us for snacks, coffee, and a conversation about the future of the humanities. Donal Harris, Assistant Professor of English, will lead our discussion. Our reading for this meeting is Christopher Newfield, "What Are the Humanities For?: Rebuilding the Public University," Chapter 10 in Gordon Hutner and Feisal G. Mohamed, A New Deal for the Humanities: Liberal Arts and the Future of Public Higher Education (New Brunswick, NJ: Rutgers UP, 2016), 160-178. This reading is available from the U of M library with login credentials. Contact Sarah Potter if you need assistance.