UofM Magazine | Spring 2022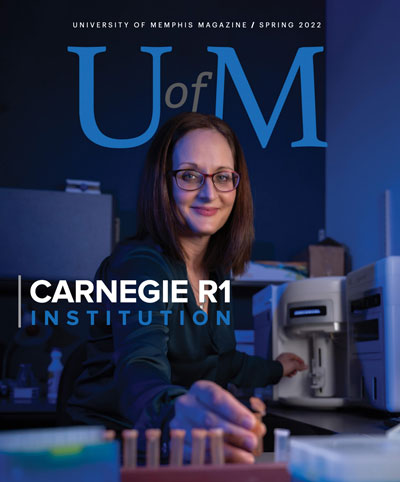 | Feature Story |
Research Renaissance

In 1970, a vision was created for two flagship public research universities in Tennessee. A half-century later, the UofM made that a reality by reaching Carnegie R1 status behind a renewed emphasis on research.
| Learn more about the drive to Carnegie R1 status >
---
| Features |
Lucky No. 13

Bill Hardgrave officially began his tenure as the 13th University of Memphis President in April after previously serving as provost at Auburn University.

| Meet President Hardgrave >

Honoring Our Heroes

During the fall 2021 semester, the UofM honored three of the Memphis community's most prominent heroes — Luther C. McClellan, Larry Finch and Maxine A. Smith.

Time Travelers

Virtual reality goggles take sixth-grade social studies students at University Middle from the UofM campus to the most notable times and places in ancient history.

| See how technology in the classroom is opening new worlds for University Middle >

Murphy's Moment

Former UofM football coach Billy J. Murphy will be inducted into the College Football Hall of Fame in
December. His teams posted winning records in 12 of his 14 seasons with the Tigers.
Read the full magazine on Issuu >
Special Thanks To:
PRESIDENT
Bill Hardgrave

EXECUTIVE VICE PRESIDENT FOR UNIVERSITY RELATIONS
Tammy Hedges
EDITOR
Trent Shadid | tshadid@memphis.edu
ASSOCIATE EDITORS
Chuck Gallina
Jude Knight
Patty Liles
ART DIRECTION & DESIGN
University of Memphis Division for External Relations
CONTRIBUTING WRITERS
Jeff Hulett
David Waters

PHOTOGRAPHY
Wendy Adams
Brooke Simpson
Matthew Smith