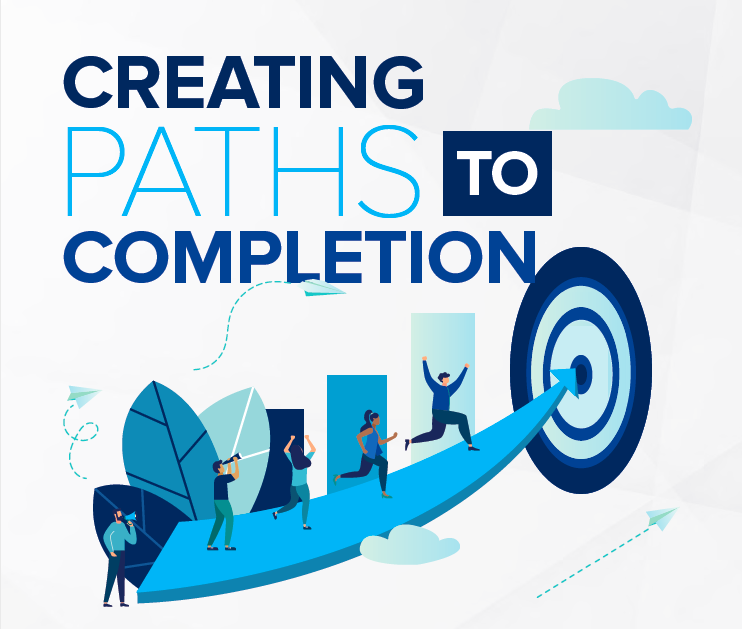 At the University of Memphis, students are the top priority. The institution prides itself on providing access and creating opportunities that give its students a path to degree completion.
With a large number of first-generation and Pell Grant-eligible students, affordability stands as the most significant barrier to accomplishing that goal. Over the past four years, enrollment has averaged around 6,000 first-generation and 7,000 Pell students per year.
The UofM has made remarkable strides in identifying needs and finding solutions to earning a degree for these students. From 2016-21, the University increased its six-year graduation rate from 42.6% to 54.3%. During that same period, the graduation rate increased for first-generation students from 37.6% to 48.8%, Pell recipients jumped from 32.8% to 47.7% and students of color climbed from 34% to 49.4%.
Completion increases of this magnitude are the result of evidence-based academic support programs and innovative financial support options that enhance the educational journey and close retention gaps.
Beyond the statistics, these results are helping create positive change in the lives of the students, their families and the Memphis community with a large number of graduates remaining in the Mid-South and contributing to the region's economy.
At a recent UofM Board of Trustees meeting, students who have been positively impacted by such efforts shared how some of the initiatives, programs and financial aid opportunities at the University helped keep them enrolled and on track for success. Here are a few of their stories.
Jessie Fall, '23
The Office of First-Generation Student Success is my home, and the First Scholars are my family. The impact these two groups have left on me is tremendous.
The First Scholars Scholarship combined with the Hope Scholarship made it possible for me to attend college. Without those, I would not have been able to afford to come to this amazing school and get to experience many new opportunities.
As a paid peer mentor in the Office of First-Generation Student Success, I have been able to give back by mentoring the first-year class through the transition from high school to college. Being able to work on campus gives me the time I need to study and maintain my 3.8 GPA (Summa Cum Laude) needed for scholarships.
My favorite opportunity yet was the chance to study abroad last summer in Hawaii. Being from a small town, this was something I never thought I would be able to do. I also spent the summer participating in the Honor's College Summer Undergraduate Research Fellowship on campus and working on a project in the biomechanics lab with one of my professors. In fall 2022, the beginning of my senior year, I had the opportunity to begin serving as vice president of Alpha Alpha Alpha, a national honors society for first-generation students. Once I graduate, I plan to attend physical therapy school.
The opportunities I have mentioned, along with ones to come, have made me a better job candidate and person. I would like to personally thank the Board of Trustees for making all of this possible and allowing other students like me to follow their educational goals.
Emmanuel Cullins, '22
I would just like to thank everyonewho had anything to do with the creation and funding of the Completion Scholarships to help students like me.
I graduated with high honors, Magna Cum Laude, as a health sciences major in May 2022, and I proudly participated in commencement. I was also on the track team at the University. For me, being a student-athlete meant that a semester consisted of 15-plus credit hours in addition to practice and competing while working a job — sometimes two jobs during the winter and summer breaks — just to make sure I would have enough money to get through.
I worked jobs where I wouldn't get off work until 3 a.m. and still make it to a 6 a.m. track practice. I can't remember when I slept! These were the sacrifices I had to make throughout my college journey.
But in my final semester, I did not have to worry about that thanks to the Completion Scholarship. I am blessed to have received this honor and pray that there will always be enough funds to continue to bless more UofM students like me, helping to take the financial burden off their shoulders so that they can focus on school and college life.
My ultimate career goal is to help young kids who have experienced abuse or witnessed abuse in their homes. I want to be able to provide a safe, positive place for them to express how they feel and a place where they can learn positive ways to look at life, despite all the negative things happening around them. I want to do that by creating and leading a program where kids across the city are welcomed and provided the support and mentorship they need.
I would like to thank the University of Memphis and the Board of Trustees for supporting scholarships like the one I received and for encouraging others to donate. Hopefully, this completion scholarship will positively impact many more students in the future.
Stephany Umanzor, '24
I am a First Scholar majoring in health sciences with a minor in medical assisting. I am honored to provide a testimonial on the scholarship that has served as my gateway to many opportunities. Receiving the First Scholars Scholarship has been about more than just receiving funds — it has provided me with a community and immense amount of support.
This scholarship is what has allowed me to be here today. I will be the first Umanzor in my family to receive a college degree. That brings me a great amount of joy.
My ultimate dream is to become a physician assistant and help others in the healthcare field. From an early age, I always worried that I could not reach my goals due to financial instability, grades and imposter syndrome. But here I am now, overcoming my own doubts with a 3.9 GPA. I now believe I will become everything I want to be and reach my career goals.
Because I love to help, I partake in a lot of extracurriculars ranging from fundraising to science to working in the admissions office. An example of my involvement is my role as an orientation guide on campus. Last summer, I helped the incoming Class of 2026 with their transition from high school to college. I met many other first-gen students who are in the same position I was as a freshman. I enjoyed having the opportunity to share my story and ease their worries and concerns.
The University of Memphis is where I call home. This campus has done so much for me, so the least I can do is give back in my own unique way. I represent the University proudly.
Because of First Scholars, I am moving further in my education and excelling. For that, I will be forever grateful. I thank the Board of Trustees for supporting scholarships and completion grants for first-generation students like me and for encouraging others to donate.