LIEUTENANT COLONEL SAMUEL S. JUN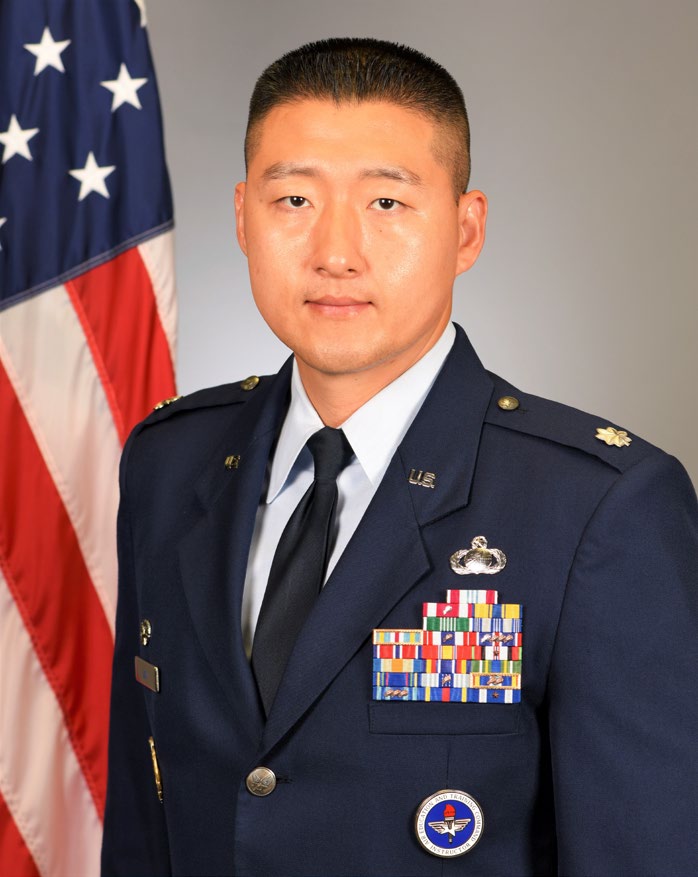 Lieutenant Colonel Jun is the Commander of Air Force Reserve Officer Training Corp Detachment 785, located at the University of Memphis in Memphis, Tennessee. He serves as the Department Head of Aerospace Studies and is an Aerospace Studies Professor.
Lieutenant Colonel Jun graduated from the New Jersey Institute of Technology (NJIT) in 2004 and received his commission as a second lieutenant.
Prior to assuming his current position, Lieutenant Colonel Jun was the Director, Ninth Air Force (Air Forces Central) Financial Management and Comptroller Directorate, Shaw AFB, SC. Additionally, he completed multiple deployments to the U.S. Central Command Area of Responsibility in support of Operations ENDURING FREEDOM, NEW DAWN, and INHERENT RESOLVE.
EDUCATION
2004 Bachelor of Science in Business Management, NJIT, Newark, New Jersey 2005 Air and Space Basic Course, Maxwell Air Force Base, Alabama
2005 Basic Financial Management Officer Course, Keesler AFB, Mississippi 2007 Financial Management and Staff Officer Course, Keesler, AFB, Mississippi 2010 Squadron Officer School, Maxwell Air Force Base, Alabama
2011 Master of Arts in Human Relations, University of Oklahoma, Norman, Oklahoma 2016 Defense Financial Management Course, Maxwell Air Force Base, Alabama
2017 Air Command and Staff College, Air University, Maxwell Air Force Base, Alabama
ASSIGNMENTS
February 2005 – October 2006, Deputy Flight Commander, Financial Services Flight (Finance), 366th Comptroller Squadron, Mountain Home Air Force Base, Idaho
October 2006 – February 2008, Deputy Flight Commander, Financial Analysis Flight (Budget), 366th Comptroller Squadron, Mountain Home Air Force Base, Idaho
February 2008 – February 2009, Flight Commander, Financial Services Flight (Finance), 51st Comptroller Squadron, Osan Air Base, Republic of Korea
February 2009 – February 2010, Flight Commander, Financial Analysis Flight (Budget), 51st Comptroller Squadron, Osan Air Base, Republic of Korea
April 2010 – February 2013, Flight Commander, Financial Analysis Flight (Budget), 87th Comptroller Squadron, Joint Base McGuire-Dix-Lakehurst, New Jersey
February 2013 – October 2014, Chief, Air Mobility Command Inspector General's Action Group and Chief, Comptroller Inspections, Scott Air Force Base, Illinois
October 2014 – June 2015, Chief, Air Mobility Command Inspector General Future Programs Branch and Chief, Comptroller Inspections, Scott Air Force Base, Illinois
July 2015 – April 2016, Chief, Central Programs Branch, Air Mobility Command Financial Management and Comptroller Directorate, Scott Air Force Base, Illinois
May 2016 – Jun 2018, Commander, 319th Comptroller Squadron, Grand Forks Air Force Base, North Dakota
Jul 2018 – Apr 2019, Deputy Chief, Personnel and Training Division, Deputy Assistant Secretary of the Air Force (Budget), Pentagon, Washington D.C.
Apr 2019 – Sep 2020, Branch Chief and Program Analyst, Program Integration Division "AF Engine Room", Headquarters U.S. Air Force, Pentagon, Washington D.C.
Oct 2020 – Jul 2022, Director, 9th Air Force - Air Forces Central Command Financial Management and Comptroller Directorate, Shaw AFB, South Carolina
Jul 2022 – Present, Commander, Air Force Reserve Officer Training Corp Detachment 785, University of Memphis, Memphis, Tennessee
MAJOR AWARDS AND DECORATIONS
Defense Meritorious Service Medal
Meritorious Service Medal with five oak leaf clusters Air Force Commendation Medal
Army Commendation Medal Air Force Achievement Medal
National Defense Service Medal Afghanistan Campaign Medal
Global War on Terrorism Expeditionary Medal Korea Defense Service Medal
Nuclear Deterrence Operations Service Medal NATO Medal
EFFECTIVE DATES OF PROMOTION
Second Lieutenant January 19, 2005
First Lieutenant January 19, 2007
Captain January 19, 2009
Major June 1, 2015
Lieutenant Colonel December 1, 2019 (Current as of June 2022)