Staff Sergeant Kelly M. Reinertsen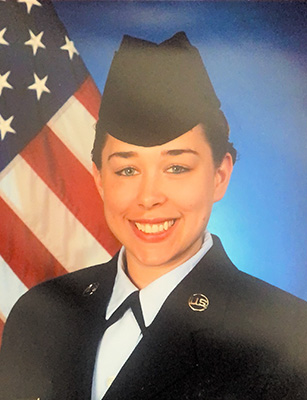 Staff Sergeant Kelly M. Reinertsen is the Non-Commissioned Officer in Charge of Administration at Air Force ROTC Detachment 785, The University of Memphis. Sergeant Reinertsen primarily manages administrative and personnel records for the UofM Cadet corps as well as Detachment Cadre. She is primarily responsible for processing cadets throughout the officer training life cycle to include enlistments, scholarships, medical, tuition, cadet pay, categorization, field training preparation, mentoring, and commissioning. Additionally, SSgt Reinertsen manages the unit's New Cadet Orientation, Government Purchasing, Information Technology, Equipment and Demand Reduction programs.
Staff Sergeant Reinertsen earned Associates degrees in Physical Therapy from Penn State University in 2013, Business Administration from the Community College of the Air Force in 2019, and Pre-Nursing from Georgia Military College in 2019. She is currently pursuing her Bachelor of Science in Health Sciences where she plans to apply at the University of Memphis accelerated nursing program.
Military Assignments:
Administration, 723 Aircraft Maintenance Unit, Moody AFB, GA Jul 16- Jun 18
Administration, 75th Fighter Squadron, Moody AFB, GA Jun 18- May 19
NCOIC Administration, University of Memphis – Detachment 785, Jun 19- Present
Education and Training:
Basic Military Training (BMT), Lackland AFB, TX Feb 2016
Administration technical school, Keesler AFB, MS Apr 2016
Airman Leadership School (ALS), Moody AFB, GA Apr 2019
Awards and Decorations:
Air Force Achievement Medal
AF Outstanding Unit Award
AF Good Conduct Medal
National Defense Service Medal
Afghanistan Campaign Medal
Global War on Terrorism Service Medal
Air Force Expeditionary Service Ribbon with Gold Border
USAF NCO PME Graduate Ribbon
AF Training Ribbon
Airman Below the Zone (BTZ)
Diamond Sharp Award