Technical Sergeant Marnisha E. Young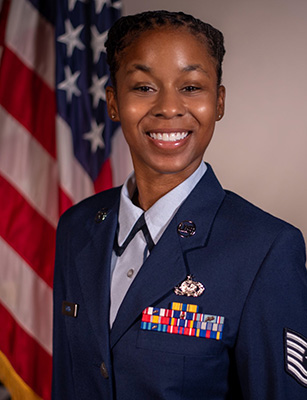 Technical Sergeant Marnisha E. Young is the Non-Commissioned Officer in Charge of Detachment 785, The University of Memphis, TN. In this capacity, she is entrusted to provide the best possible support for assigned cadre and cadets with spot on processing of personnel actions covering the gamut of AFROTC programs. She is directly responsible for all cadet life-cycle personnel actions to include records management, inprocessing, medical, physical, field training, enlistments, categorization, and commissioning. She also has oversight of all annual cadet pay actions to include tuition, fees, subsistence, and textbook funds. She provides superior guidance towards cadets' academic success, personal goals, and military careers.
Sergeant Young enlisted in the Air Force in October of 2010 as a Materiel Management Apprentice. Prior to her current position, she worked as a Quality Assurance Evaluator at Shaw AFB.
Education
2011 Materiel Management Technical Training, Lackland AFB, Texas 2015 Airman Leadership School, Mountain Home AFB, Idaho
2021 Associates of Applied Science, Logistics, Community College of the Air Force, Maxwell AFB, Alabama
2022 Non-Commissioned Officer Academy, McGhee Tyson AFB, Tennessee
Assignments
October 2010 – December 2010, Student, Basic Military Training, Lackland AFB, Texas
December 2010 – February 2011, Student Materiel Management Technical Training, Lackland AFB, Texas
February 2011 – July 2012, Customer Service Apprentice, 366th Logistics Readiness Squadron, Mountain Home AFB, Idaho 2. July 2012 – October 2013, Receiving Journeyman, 366th Logistics Readiness Squadron, Mountain Home AFB, Idaho 3. October 2013 – January 2016, Supply Technician, 366th Aircraft Maintenance Squadron, Mountain Home AFB, Idaho, Mountain Home AFB, Idaho
January 2016 – May 2018, Supervisor, Flight Service Center, 20th Logistics Readiness Squadron, Shaw AFB, South Carolina
May 2018 – December 2019, Supervisor, Individual Protective Equipment, 20th Logistics Readiness Squadron, Shaw AFB, South Carolina
December 2019 – June 2022, NCOIC, Materiel Management Quality Assurance, 20th Logistics Readiness Squadron, Shaw AFB, South Carolina
June 2022 – Present, NCOIC, Detachment 785, The University of Memphis, Tennessee
Major Awards and Decorations
Air Force Commendation Medal
Air Force Achievement Medal Humanitarian Service Medal
Effective Dates of Promotion
Airman First Class Dec 03, 2010 Senior Airman Apr. 03, 2013
Staff Sergeant Jan. 01, 2016 Technical Sergeant Nov. 1, 2020
(Current as of October 2022)