College of Arts & Sciences Career Specialists
Social Sciences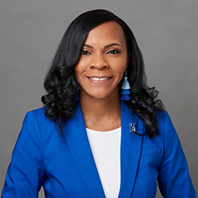 Kimberly Brown joined Career Services in October 2018 as a Career Specialist. She is responsible for providing career advising and preparing Social Science students with the successful transition from college to career. Kimberly is an alum of the University of Memphis with a Bachelor of Science degree in Education and a Master of Arts degree in Adult Education & Training. She previously served as a Human Resources Associate for the Human Resources Department on campus with a specialization in Employee Relations and Engagement, Training, Recruitment and Compensation. In addition to her extensive HR experience, Kimberly has worked for various local non-profit agencies and Memphis City Schools to educate and empower individuals of diverse backgrounds.
Contact Information:
Monday and Tuesday: 367 Psychology Building, 901.678.4076
Wednesday, Thursday and Friday: 111 Scates Hall, 901.678.4071
Email: kfoster@memphis.edu
STEM (Science, Technology, Engineering and Mathematics)
Dr. Jada Meeks joined Career Services in February 2017 as a Career Specialist. Jada was one of the first Career Specialist embedded in Talent Communities by college to pilot the program for the University of Memphis. She has a Bachelor of Science in Computer Science from Tennessee State University and has worked as a Systems Programmer for TVA and a Programmer Analyst For Federal Express. She later obtained her Master of Art in Teaching from the University of Memphis. She has been a teacher, assistant principal and principal in the Memphis City School System. Jada obtained her Doctorate in Education from the University of Memphis. Before coming the University, Jada served as the Dean of Education at Meten Preparatory Academy in Chengdu, China. Jada currently serves the role of Career Specialist for all Science, Technology, Engineering, and Math (STEM) majors where she helps prepare students to interview well and obtain internships and jobs. Learn more about STEM careers on the STEM career website.