MFA THESIS EXHIBITION
DESMOND LEWIS: HEAVY-LADEN
March 17–31, 2017
Opening Reception: March 17, 5-7 pm (artist Gallery Talk, 6 pm)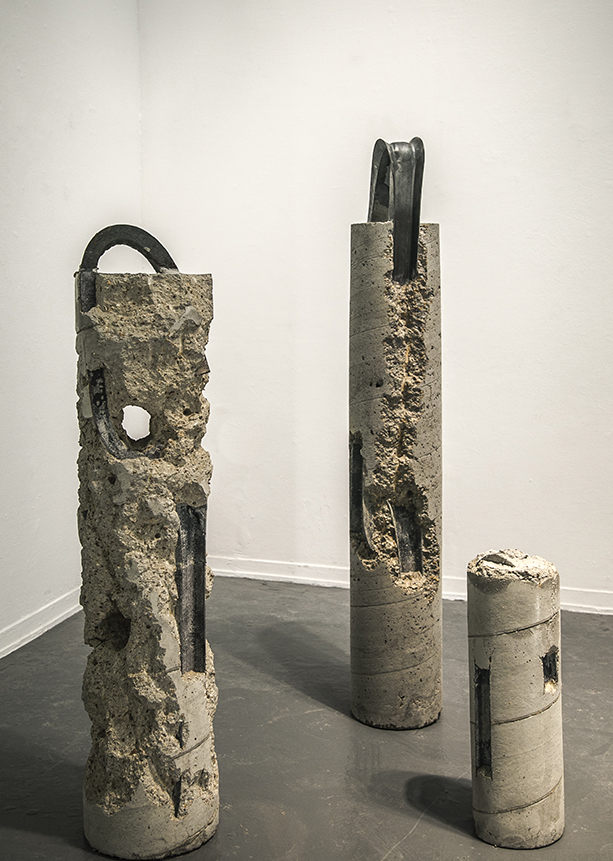 Featuring the work of Desmond Lewis, the MFA thesis exhibition Heavy-Laden explores the relationship between the often-overlooked industrial contributions of African Americans in the construction of the United States over time and considers the metaphorical characteristics of the materials used.
The contribution of African American labor to industrial America is often hidden beneath the layers of racist ideologies that have propelled the United States to its superpower status. The work in the exhibition carves away at this pristine façade to expose the roughness and intricacies that the hands of African American labor had and still have in constructing the nation's infrastructure.
Lewis's work is driven by the interpersonal relationship he has with steel and concrete—a physicality and commitment echoed in his everyday experience living in the United States as an African American man. Comprised of carved concrete and forged and fabricated steel sculptures, the exhibition occupies the gallery but also includes a large-scale outdoor piece as well as public work in the Orange Mound community.
This exhibition is supported through the generosity of West Memphis Steel, Orange Mound Gallery, Razorback Concrete, Williams Equipment and Supply, MCR Safety, and Tennessee Sling Center.