Fall 2019 Exhibitions
JEAN KOELLER: NOT DEAD WOOD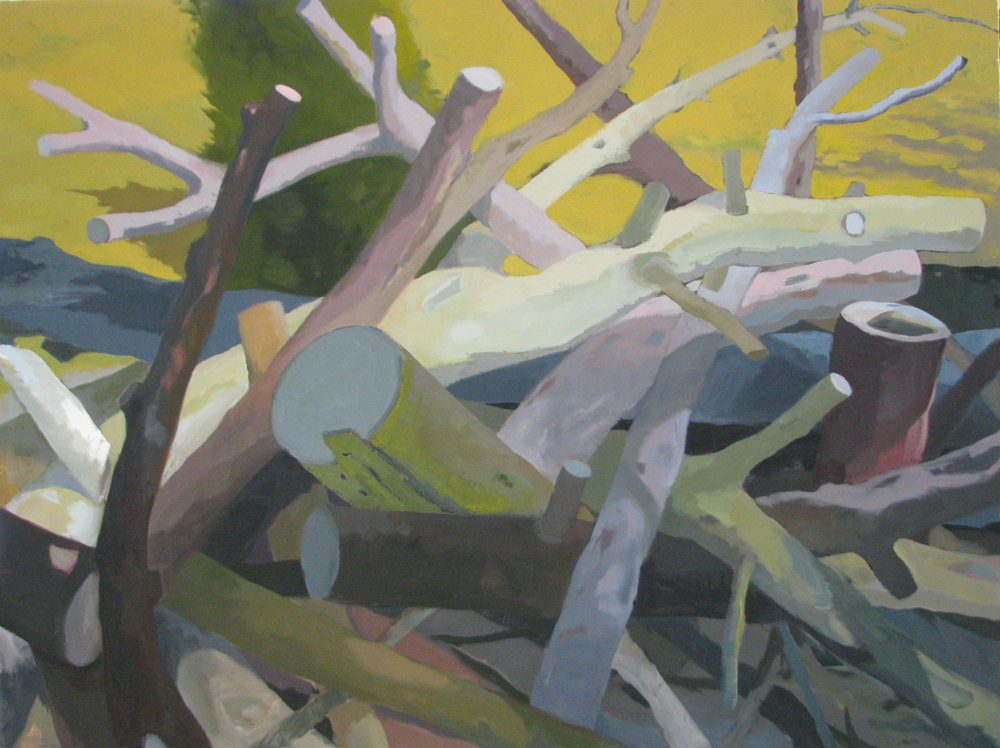 August 30 – October 4
Artist Lecture: August 29, 7 pm, ACB 310
Opening Reception: August 30, 5-7 pm
Working from both life and memory, Jean Koeller depicts ordinary, dense views that redefine the boundaries of landscape and beauty. Her work moves between experience and thought, representation and abstraction, distilling information through observation and memory. The paintings explore the tension between human perception of time and nature's rate of change, and the realities of chaos punctured by an illusion of order. She explores, physically and psychologically, the essence of life of the interior—the interior of the landscape, and the interior self.
The exhibition includes works from Koeller's recent series of woodpile paintings, as well as works on paper. Woodpiles formed from fallen trees have been a constant presence on the property on which she has lived for the past fourteen years. To the artist, man and nature, all those struggles are present in this pile. Koeller relates, "What the woodpile has done is educate me. I see, in my sadness, the loss of the trees, but by standing out there and working and observing the process of nature and its effect on the wood and its surroundings, the role the pile has played to fertilize the land, provide a haven for wildlife and insects, to see what else grows out of the logs and sticks, what birds do and feed from this wealth of food. The pile is anything but 'dead.' I don't feel compelled to narrate this literally but to put life in the subject with paint and color."
Jean Koeller was born in Columbus, Ohio, and currently lives and works in New Carlisle, Ohio. She received her BFA from Wright State University, her MFA from Parsons School of Art and Design, and is an alumna of the Skowhegan School of Painting and Sculpture. Her work is in numerous collections, including the Ohio Arts Council, Ohio Supreme Court, and Ohio Governor's Residence in Columbus, Ohio, Miami Valley Cultural District in Dayton, Ohio, and Kettering Hospital, in Kettering, Ohio. She has taught painting and drawing at various colleges and universities in Ohio, and worked as the Visual Resource Curator for the University of Dayton from 1992-2007.
Above image: Jean Koeller, Woodpile, Reaching, 2014-16. Oil on canvas, 36 x 48 in. Courtesy of the artist.
LAWRENCE JASUD: KULCHER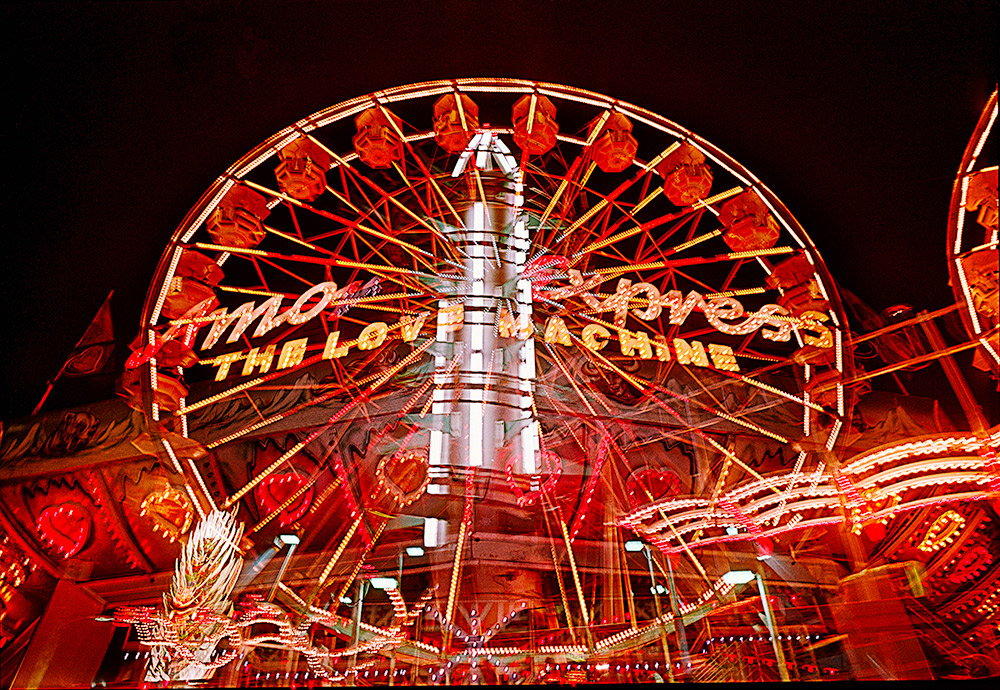 September 6 – October 11
Opening Reception: September 6, 5-7 pm (Gallery Talk at 6 pm)
Gallery Talk: September 19, 11:30 am
This retrospective exhibition is drawn from over three decades of photography by Lawrence Jasud. From amusement parks and carnivals to barbeque competitions, Jasud's work explores the interstices of American popular culture and its various subcultures. His visually dense photographs are an ongoing exploration of spectacle and excess, an investigation of places and the people that inhabit them. Jasud's position is one of ambivalence and enthusiasm—embracing and enticed by the people and places he shoots, but at times also dispirited and appalled. Inherent in the work is the confounding juxtaposition of kitsch and the near-spiritual aesthetic the artist creates in his compositions using long exposures, multiple exposures and other techniques.
Lawrence Jasud (American, born 1942) was born in Chicago. He received a B.S. from Southern Illinois University in 1969 and an M.A. from Ohio State University in 1980. Since 1981, Jasud has lived and worked in Memphis, Tennessee, where he taught at The University of Memphis from 1981 to 2015.
Above image: Lawrence Jasud, The Love Machine, 1989. Archival pigment print. 16 x 20 in. Courtesy of the artist.
MFA THESIS EXHIBITION: CHRIS DAVIS
BFA THESIS PART I
October 25 – November 8
Opening Reception: Friday, October 25, 5-7 pm
BFA THESIS PART II
November 15 – December 6
Opening Reception: Friday, November 15, 5-7 pm
Graphic DESIGN SENIOR EXHIBITION
December 12, 6-8 pm