DÉPAYSEMENT
Laura J. Lawson | MFA Thesis Exhibition
October 21 – November 4
Opening Reception: October 21, 5-7:30 pm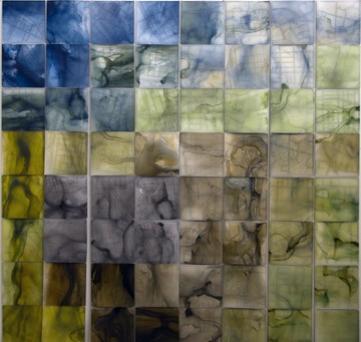 Image: Laura J. Lawson, Memphis (detail), 2016. Acrylic ink on polypropylene and paper. 80 x 200 in. Courtesy of the artist.
Dépaysement is the MFA thesis exhibition featuring the work of Laura J. Lawson. Dépaysement, a French word with no direct English translation, describes the feeling of being out of one's home country. The exhibition addresses her three years in Memphis contrasted with her recent artist residency in Marnay-sur-Seine, France.
Lawson's paintings are made with ink on translucent plastic. The result resembles cartographic endeavors, separating the viewer from each place with an aerial perspective. Her two largest works layer these paintings in front of cut paper maps in a grid formation, creating shadows of highways beneath the landscape-like surface. In other works, Lawson has drawn directly on the painting to mix the universal qualities of topography with the arbitrary shapes of borders and roads. The color palettes of all of these paintings are specifically derived from either Memphis or Marnay-sur-Seine, but the characteristics of these places become lost in the similar and strange elements of geography.