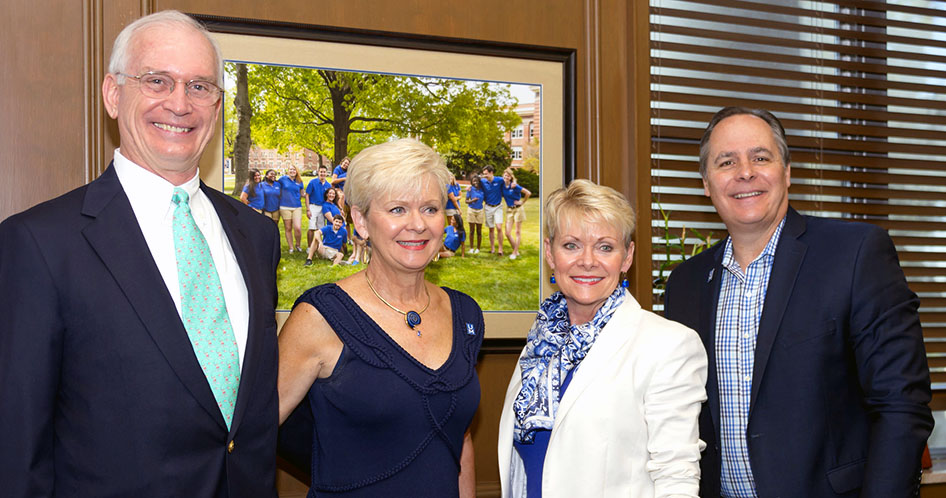 Michael and Pam Koban Endow Scholarship at UofM
June 16, 2015 - Michael and Pam Koban have made a $250,000 gift to the University of Memphis to endow a scholarship in honor of Pam's sister, Patti Bradford. Bradford was a faculty member at the UofM faculty for 36 years, serving as an assistant professor of consumer science and education.
The Patti Bradford Endowed Scholarship will benefit students enrolled in the Fogelman College of Business & Economics, with a preference given to students studying finance.
"Pam and I are extremely pleased to have the opportunity to honor Patti for her years of service at the University of Memphis, and also because of the fondness that we have for her," said Michael Koban. "The University of Memphis is an important part of the Koban and Bradford families. The total number of degrees from the University of Memphis is 11, and includes seven graduate degrees and four undergraduate degrees. Our families and the University of Memphis are certainly closely connected."
Marianne Hartquist, UofM director of development, said, "Mike and Pam Koban's commitment in honor of Patti Bradford is a remarkable way to show their appreciation for Patti's decades of service to the University while supporting deserving students in the Fogelman College of Business & Economics. We are grateful that the Kobans have chosen to support the University of Memphis at such a high level."
Contact: Gabrielle Maxey
901.678.2843
gmaxey@memphis.edu