UofM Team Finishes in the Top Five in Everett V. Fox Case Competition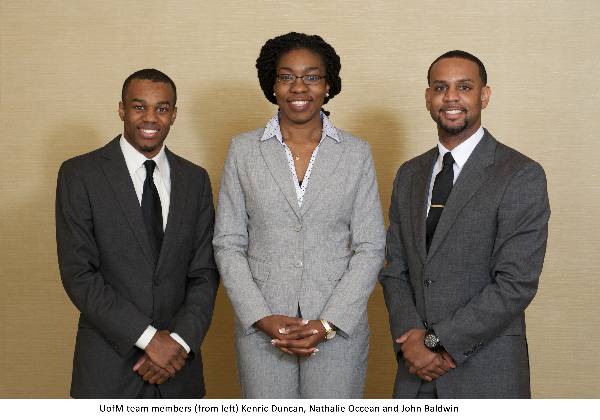 October 21, 2015 - A team from the University of Memphis placed fifth in the Everett V. Fox Case Competition at the National Association of Health Services Executives Annual Meeting held recently in New Orleans.
Teams were given a case based on the Kaiser Permanente Georgia region and asked to improve member experience, increase access to behavioral health, decrease expenses, and consider building a new hospital in the region. The UofM was represented by Kenric Duncan (team captain), Nathalie Occean and John Baldwin. Dr. Paige Powell, assistant professor of Health Systems Management and Policy, was the team's adviser.
From the preliminary round, 10 teams advanced to the semifinals and five teams went on to the finals. The other finals teams included Michigan, Ohio State, Trinity and the University of Illinois at Chicago. In addition to advancing to the finals, the Memphis team also received the Viewer's Choice Award.
NAHSE's purpose is to ensure greater participation of minorities in health care. Teams are comprised of three students, and at least one must be African-American. The teams are given three weeks to analyze a case study dealing with a healthcare system somewhere in the United States. They must prepare strategic and financial analyses and provide a 20-minute presentation of the case solution to a panel of judges at the national meeting.
"Kenric, Nathalie and John worked tirelessly to prepare a strong, innovative solution in a very short amount of time," said Powell. "Their hard work and dedication have proven that the MHA program in the University of Memphis School of Public Health recruits and prepares some of the best students in the nation for careers in health administration. We are particularly thankful for the support that we received from the University community and the help and mentorship of members of the local NAHSE chapter."
As part of the 20th anniversary of the Case Competition, the final presentations were streamed live and viewers were able to vote on a number of other awards.
Contact: Gabrielle Maxey
901.678.2843
gmaxey@memphis.edu