Peer Power Nonprofit Finds New Home on University of Memphis Campus, Creates Pipeline for Growing Memphis Model Initiative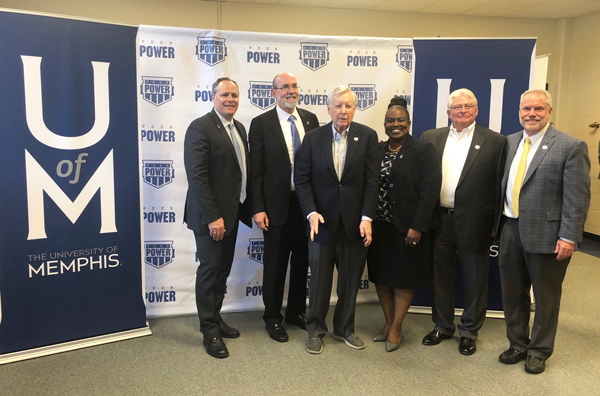 Photo (l to r) of the Peer Power Institute announcement: UofM President M. David Rudd; Dr. Tom Nenon, dean of the UofM College of Arts and Sciences; Charlie McVean, Peer Power founder; Dr. Kandi Hill-Clarke, dean of the UofM College of Education; Bill Sehnert, Peer Power executive director; Dennis Ring, director of Community Development
December 18, 2018 - The University of Memphis and Peer Power Foundation have opened the Peer Power Institute on the University of Memphis campus.
Peer Power Foundation is a Memphis-based nonprofit that hires high-performing college students to tutor and mentor Shelby County Schools students.
The Peer Power Institute in 212 Ball Hall, adjacent to the Office of the Dean of the College of Education, features college students who are recruited then employed as "success coaches." After five weeks of training, in addition to monthly professional development seminars led by a training committee comprised of Shelby County Schools teachers, UofM PhD candidates and Peer Power leadership, the success coaches are placed in Shelby County Schools classrooms to support in-class curriculum, reducing the student-to-adult ratio from 30:1 to 10:1. Together, Peer Power, the UofM and Shelby County Schools create an alliance of educational institutions called The Memphis Model.
Peer Power's Memphis Model has employed more than 600 UofM students and currently employs 150 students who are involved in student life activities, including UofM's Emerging Leaders, Student Government Association, ROTC and the Helen Hardin Honors College. These numbers position Peer Power as the second-highest employer of UofM students behind the University itself.
"Peer Power is a remarkable way to show previously under-engaged high school students that they have the power to take control of their success, and with the Peer Power Institute at the University of Memphis, we're with them every step of the way," said Dr. Tom Nenon, dean of the UofM College of Arts and Sciences. "We prepare our University of Memphis students to be exceptional across academic, teamwork and leadership categories, to which they, as success coaches, can directly practice and pass on to Shelby County Schools students in the classroom."
Peer Power's Memphis Model initiative launched in Whitehaven High School in 2014, at which time the graduation rate was 77 percent. By 2017, Whitehaven's graduation rate reached 91 percent, the highest graduation rate of any public high school of comparable size in Memphis. In addition, Whitehaven students received a combined total of more than $130 million in college scholarships. East High School and Kingsbury High School, two schools in which the Memphis Model has since been implemented, have also seen increased attendance and graduation rates.
"The Memphis Model is an innovative way to raise classroom morale and change the trajectory of so many students' lives, of which the success coaches play a vital role," said Jim Barton, who serves on Peer Power's Board of Directors Executive Committee. "The University of Memphis is a pillar of the Memphis Model because of the exceptionally high quality of student success coaches who believe that education is the key to success and instill that belief in their high school students."
During their year-round employment, success coaches receive college credit opportunities in addition to substantial career training. Eighty-four percent of the college students who have worked for Peer Power have successfully graduated from the University of Memphis. Fifty-seven UofM success coaches have since established careers in education as teachers, guidance counselors and administrators.
"The University of Memphis' Peer Power Institute helps Peer Power make a real difference in the lives of Shelby County Schools students and the success coaches we employ. The institution has been an instrumental partner since Peer Power's early years," said Dennis Ring, Peer Power's Community Development Director. "The Peer Power Foundation and all the positive work being done are only possible because of the generosity of our donors and the wisdom of the leadership of the University of Memphis and Shelby County Schools.
"In 2007, the University of Memphis began to assist in the preparation and delivery of Peer Power's Summer Training Institute. Since then, we have trained more than 1,600 students to tutor more than 1.1 million hours targeting about 15,000 students. Peer Power's ACT Prep University Program has additionally introduced 3,300 SCS students to the University of Memphis campus. Thousands of SCS students we have tutored have matriculated to attend the University of Memphis. The gift of education to these schools is an incredible gift for the Memphis community."
Peer Power plans to collaborate with all colleges at the UofM to facilitate the recruitment and development of 500 to 600 success coaches over the next three to four years, allowing them to continue their contribution to positive change and economic growth in Memphis.
To learn more about Peer Power and the Memphis Model, visit http://www.peerpowerfoundation.org/.
ABOUT PEER POWER: Peer Power is a 501(c)3 non-profit organization innovating the public education system by inspiring and empowering youth to take control of their success. Peer Power's Memphis Model recruits, trains and employs high-performing college scholars to coach and mentor public high school students within the classroom. This model improves high schoolers' grades, standardized test scores and college and job readiness, provides college students with job experience and the financial means to stay in school, and increases teachers' job satisfaction, performance and retention by reducing the student-to-adult ratio to 10:1. To learn more and see results, visit peerpowerfoundation.org.