Laird Veatch named University of Memphis Director of Athletics
FOR IMMEDIATE RELEASE
August 9, 2019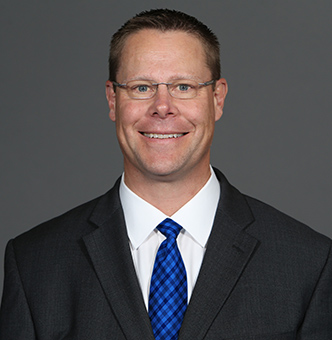 MEMPHIS --- Laird Veatch has been named Director of Athletics at the University of Memphis, UofM President M. David Rudd announced on Friday.
Veatch, who is a 25-year veteran in intercollegiate athletics, has been the executive associate athletics director for internal affairs at the University of Florida since July 2017. He has led the administrative oversight of capital improvement projects, event operations, facilities and strength & conditioning. He also serves as the sports administrator for football and is the primary liaison with Gator Boosters, the fundraising arm for Florida Athletics.
"Laird's a perfect fit for the University and our City," said Rudd. "As a former student-athlete, he brings a unique perspective and a wealth of experience at some of the nation's leading athletic departments, along with a strong vision for the future, a keen understanding of a rapidly changing landscape, unparalleled integrity and energy, and a commitment to competing at the highest level."
Prior to Florida, Veatch spent the seven years prior (2010-17) at his alma mater, Kansas State University, where served in a variety of roles, including both deputy athletics director and interim director of athletics.
"Through conversations with President Rudd and trusted colleagues from around the nation about this special opportunity, it quickly became apparent that there is a tremendous amount of momentum in Memphis," said Veatch. "Together with our highly-respected University leadership, incredible coaches, staff and student-athletes, along with passion of the Memphis family, we have an opportunity to build an unprecedented era in Tiger Athletics.
"I am so excited to come alongside the team in place to serve our student-athletes, University, fans and community! My family and I are truly grateful. We can't wait to develop new friendships and earn the right to be called Memphians."
Veatch provided oversight to the K-State athletic department's senior staff on strategic direction, fundraising, fan experience, ticket sales and multimedia rights. He was the lead manager of new capital projects, including fundraising, design vision and oversight of construction for more than $210 million in new facility projects, highlighted by an $85 million west-side football stadium expansion and a $65 million football-training complex. The Vanier Family Football Complex was completed in just seven months between football seasons.
Before returning to K-State, Veatch spent seven years with Learfield Sports (2003-10), including the last four as regional vice president (2006-10). As regional vice president of Learfield Sports' Heartland Division, he was responsible for the leadership and oversight of eight Div. I multimedia rights departments, including four new start-up properties.
Learfield Sports first hired Veatch in 2003 as the general manager for Mizzou Sports Properties before his promotion to regional vice president in 2006. In that role, he coordinated all multimedia activities within the Missouri Athletics Department's external operations team and directed all Mizzou Sports Properties staff, activities and performance.
Prior to Learfield, Veatch spent a short time in athletic administration at Iowa State (2002-03) as senior associate athletics director for external operations, serving as the senior advisor to the athletics director and directing all external operations units, including marketing, development, media relations and event management.
He spent his formative years at Missouri (1997-2002), the last three as assistant athletics director for development, where he oversaw fundraising activities for the athletics department with special emphasis on facility and capital fundraising projects. A major contributor to Mizzou's record growth in total giving, Veatch managed the Tiger Scholarship fund annual giving program and directed Mizzou's $102 million comprehensive Capital Campaign.
Veatch began his professional career in 1995 at the University of Texas, assisting with the development program as well as the external affairs area as a graduate assistant while earning his master's degree in sports administration in 1997.
Veatch received his bachelor's degree in business administration from Kansas State in 1995 where he was a four-year letterman at linebacker for College Football Hall of Fame coach Bill Snyder from 1990-94 and served as team captain as a senior. He was a starter on K-State's Copper and Aloha Bowl teams in 1993 and 1994 and earned honorable mention All-Big Eight Conference honors in 1994.
He was also a two-time CFA Academic All-American, was Academic All-Big Eight four times and was a Hitachi/CFA Scholar-Athlete in 1994.
Veatch and his wife, Brandy, have three daughters, Jordyn, Taylor and Sydney, and one son, Dru.
Veatch will be formally announced at a press conference in the near future. Details to follow.
Laird Veatch Professional Experience:
July 2017-19: University of Florida (Executive Associate Athletics Director, Internal Affairs)
2016-17: Kansas State University (Deputy Athletics Director & Chief of Staff)
2015-16: Kansas State University (Deputy Athletics Director)
2013-15: Kansas State University (Executive Associate Athletics Director)
2012-13: Kansas State University (Senior Associate Athletics Director for Strategic Initiatives)
2010-12: Kansas State University (Associate Athletics Director for Capital Support)
2006-10: Learfield Sports, Heartland Division (Regional Vice President)
2003-06: Learfield Sports, Mizzou Sports Properties (General Manager)
2002-03: Iowa State University (Senior Associate Athletics Director for External Operations)
2000-02: University of Missouri (Assistant Athletics Director for Development)
1998-2000: University of Missouri (Director of Athletics Development for Major Giving)
1997-98: University of Missouri (Director of Annual Giving & Development Coordinator)
1995-97: University of Texas (Graduate Assistant for External Operations & the Longhorn Foundation)

What They are Saying about Laird Veatch:
Mike Alden, former University of Missouri Director of Athletics
"I have known Laird Veatch for over 20 years. While working together at the University of Missouri, it was evident that Laird possessed great passion and commitment to intercollegiate athletics and student-athlete development. Throughout his career, he has displayed solid core values, an outstanding work ethic, teamwork and humility. He is truly a servant leader. Brandy, Laird and their family will be a great addition to the University. Congratulations to President Rudd and the University of Memphis on a 'home run' hire!"
Mike Aresco, American Athletic Conference Commissioner
"I want to take this opportunity to congratulate President Rudd and the University of Memphis on a home run hire in new Athletic Director Laird Veatch, and to extend to him a warm welcome to the American Athletic Conference. Laird is exceptionally well-qualified. He comes strongly recommended by some of the most respected and prominent leaders in college sports, and he has an excellent background and track record. He brings tremendous energy and expertise in key areas to this important position, and he will be a great fit for a university and an athletic department that has been on the move and which is now poised for even greater future success."
Bob Bowlsby, Big 12 Conference Commissioner
"Laird Veatch is an outstanding athletics administrator who has consistently demonstrated the energy and insights to lead at the highest levels. In appointing Laird, the University of Memphis has invested in a very bright future."
Greg Brown, Learfield IMG College President and CEO
"Laird is the absolute perfect hire for Memphis as its next Director of Athletics. He is the ultimate student-athlete success story. Laird was part of Coach Bill Snyder's first recruiting class at K-State, where he was captain of the football team and a two-time Academic All-American. He's a tremendous athletics administrator, fundraiser and capital improvement project manager. He honed those skills under strong leaders and programs at Texas, Missouri, K-State and Florida. He spent seven years at Learfield Sports as a multimedia rights GM, corporate executive, trusted confidant to me and mentor to others. Laird is personable, likeable, a terrific family man and a person of faith. He's excelled everywhere he's been, and I know he will do exactly that at Memphis. Laird is an ideal choice to lead Tiger Nation's athletics program."
Joseph R. Castiglione Sr., University of Oklahoma Vice President/Director of Athletics
"Congratulations to the University of Memphis and President Rudd on this masterful hire. Laird Veatch is clearly the total package as a rising star in our profession today. I've been blessed to be part of Laird's career journey, and I can say with certainty that he's as well-prepared, passionate, values-centered leaders that I've ever been around. People are just drawn to him. From his success as a student-athlete, through his experiences both in higher education and the private sector, he's as ready for this opportunity as anyone I know. The Memphis family will truly enjoy getting to know Laird, Brandy and their beautiful family. Great success is ahead for the Tigers."
Jeremy Foley, former University of Florida Director of Athletics
"In the limited time I've been around Laird Veatch, I can see why he is considered one of the young, bright and respected professionals in collegiate athletics. He is engaging with his constituents at every level and is strategic and deliberate in his planning and organization. He was a tremendous asset for the Gator Athletic program during his time here. The University of Memphis is in great hands and is well positioned for incredible success under Laird's leadership."
Kirby Hocutt, Texas Tech University Director of Athletics
"I congratulate the University of Memphis on making the absolute best hire for their Athletics Director position. I have known Laird for 30 years and have the upmost respect and admiration for him. He has been my teammate, captain, colleague and most importantly, friend. There is not a better man than Laird Veatch, and the University of Memphis will greatly benefit from his leadership. Additionally, the City of Memphis will benefit with Laird, Brandy and their family being a part of their community."
Cato Johnson, UofM Board of Trustees; Executive Committee and Senior Vice President, Public Policy / Regulatory Affairs & Chief of Staff for Methodist Le Bonheur Healthcare
"I have had numerous, extensive conversations with Laird, and I believe he is the ideal candidate for this particular time in University of Memphis history. His 25 years of experience in intercollegiate athletics and his engaging personality will be a perfect fit as the University of Memphis Athletics Department continues to make great strides. The Veatch family is very personable and has demonstrated that they will truly engage with the community and quickly become immersed in Memphis culture."
Dave North, Chair of the UofM Board of Trustees; President and Chief Executive Officer of Sedgwick
"It is with great excitement that I welcome Laird and his family to the Memphis community and Tiger Nation. As a former student-athlete, Laird has worked his way through many levels of athletic administration, making him very well-rounded and prepared to lead University of Memphis athletics. His energy and experience will assist our student-athletes, coaches and staff in competing at the absolute highest level. I am thrilled with this important decision."
Greg Sankey, Southeastern Conference Commissioner
"Laird distinguished himself during his career as an athlete and a leader as a member of the football team at Kansas State. He has gained vast experience throughout his nearly 25 years working in all kinds of roles, which provide him with a solid foundation as he transitions to leading the Memphis Athletics Department. In a short time, Laird and his family became important contributors in the University of Florida community, and I congratulate President Rudd and the University of Memphis for adding a great leader and great family. I am confident Laird will quickly and effectively make a positive impact on the Tigers' athletics program."
Scott Stricklin, University of Florida Director of Athletics
"Laird Veatch is a talented administrator and a special person. His unique blend of intelligence, vision, humility and kindness make him one of the most valuable and well-liked colleagues I've ever had the pleasure of working alongside. Laird and his family have made a significant impact on Gator Nation, and Memphis is going to benefit immensely from their presence."

CONTACT
Chuck Gallina | 901.678.1756 l cgallina@memphis.edu