Perseverance Personified: How Chanel Hudson-Marks Went From the UofM to the World Cup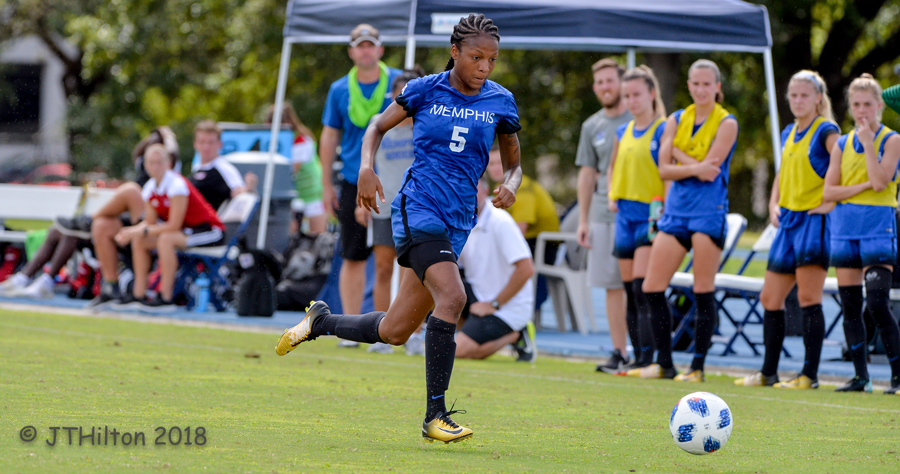 By Trent Shadid, June 5, 2019
Creating a legacy isn't always about sustained success over a long period of time. Sometimes, it's about having persistence, being receptive to change and taking full advantage of the most important moments you're presented. The soccer journey of recent University of Memphis graduate Chanel Hudson-Marks serves as a prime example.
Hudson-Marks' determination through an admittedly up-and-down playing career at the UofM has led her to the pinnacle of her sport — the Women's World Cup. She'll walk onto the pitch as a member of the Jamaican team June 9 at the Stade des Alpes in Grenoble, France, as the first-ever Women's World Cup participant from the UofM.
That opening match against Brazil will also mark Jamaica's first-ever appearance in the competition and the first for any Caribbean nation. Accomplishing firsts is nothing new to Hudson-Marks, though. She received the honor of Most Outstanding Defensive Player in the American Athletic Conference Tournament as she helped the Tigers' capture their first-ever AAC Tournament title last November.
Such achievements weren't always certain to be on the horizon for Hudson-Marks, however. She spent her first three years at Memphis primarily as a reserve forward. She'd clearly always had the talent to be something much more, but things hadn't yet come together.
So, with her career at a crossroads following her junior season in 2017, it was time to make a change that would set her on the path to France.
Star Senior
As Hudson-Marks struggled with consistency throughout her first three years at the UofM, her playing time diminished significantly as a junior. She appeared in just 14 of the Tigers' 20 matches that season. Looking ahead to her senior year, she knew things couldn't stay the same. A serious conversation with UofM coach Brooks Monaghan was in order.
"I went to Coach and made sure I let him know I was willing to play wherever he needed me," Hudson-Marks said. "Specifically, I knew I was looking at a move to the back, to be a defender for the first time. We lost a couple of defenders from my junior to my senior year, so it made sense and that's when we really decided it was time for me to give it a shot."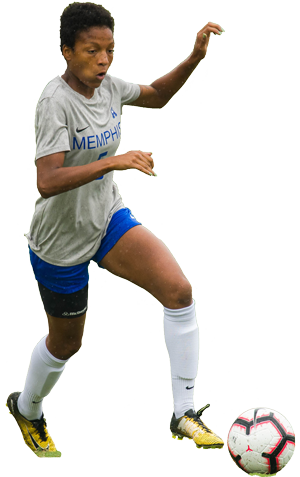 Hudson-Marks was eased into her new role as an outside back. With her exceptional speed and ability to think like an attacker, it was a natural fit.
After being used as a reserve the first four matches of her senior season, she started the final 17 contests. For the first time in her UofM career, she was displaying consistency and booming with confidence.
Hudson-Marks became such a reliable defender Monaghan called for another, albeit less drastic, position switch ahead of the AAC Tournament. With the Tigers set to face some of the best central attackers in the conference, Hudson-Marks moved from outside back to center back.
"We had to beat UCF and then USF to win the conference championship," Monaghan said. "The best player on each of those teams was a center forward. Chanel took those biggest threats out of the game with what she was able to do at center back. We wouldn't have won a championship without her."
The success after taking on such a challenge was the perfect defining moment for her UofM career. It would also serve as a springboard for what was to come.
"It meant a lot that Coach [Monaghan] had the confidence in me to move me to center back to slow down those forwards for USF and UCF," Hudson-Marks said. "I knew when that decision was made that I was going to have to play a big part if we were going to win the conference, and it worked out. That was a really great experience."
The Reggae Girlz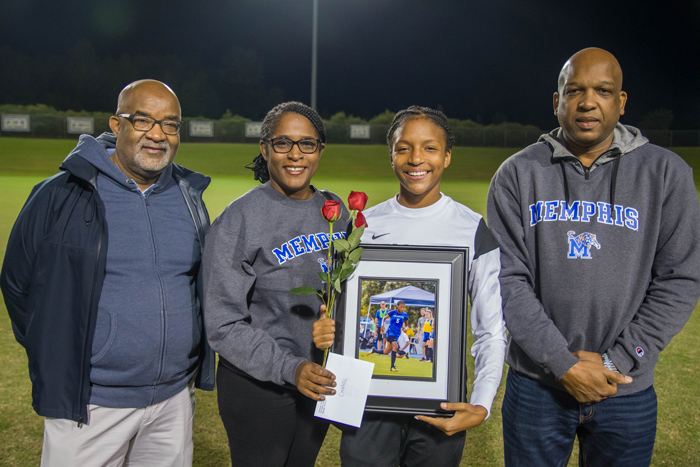 Hudson-Marks is a Canada native. She attended high school in Pickering, Ontario, just east of Toronto. She grew up training within the pipeline that leads to the Canadian National Team, but an untimely ankle injury as a teenager hampered her chances of advancement through Canada's system. As the daughter of Jamaican-born parents Angella Hudson and Wayne Marks, she shifted her focus to the possibility of becoming tied to Jamaica, or the Reggae Girlz as the team is known to its supporters.
She'd already grown up immersed in Jamaican culture with her many aunts and uncles also from the small Caribbean island nation. She even has Jamaican athletic royalty in her bloodlines as a third cousin to nine-time Olympic gold medalist Usain Bolt.
Hudson-Marks earned opportunities to train with Jamaica's under-17 and under-20 teams. She appeared in three matches for Jamaica at the CONCACAF U-20 Women's Championship, even scoring a goal.
But appearances with those developmental teams provide no assurance the senior team will ever come calling. For Hudson-Marks, that possibility was growing increasingly unlikely until her stellar final season with the Tigers.
The position switch and the performances that followed caught the attention of the Reggae Girlz. She was called into camp with the senior team three times between January and early April. She made her debut Feb. 28 in a 1-0 win over Chile. Her spot in Jamaica's World Cup squad was cemented as she continually proved to be a versatile outside back with difference-making speed.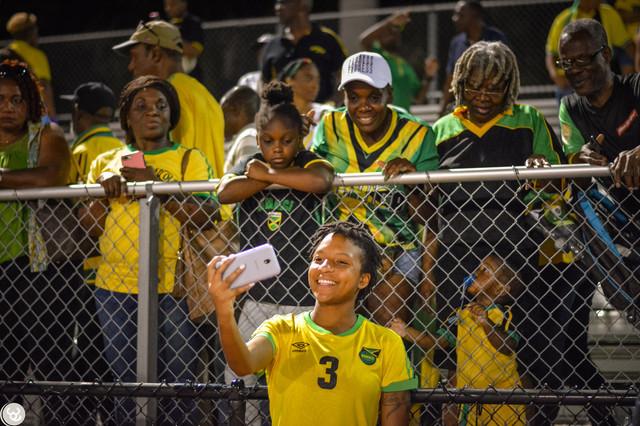 Photo Credit: Alacran Group
"Honestly, it's worked out so much better with Jamaica," Hudson-Marks said. "I'm going to be a part of Jamaican history. Being from a smaller country, it feels like there's so much more to fight for.
"It's not just about the sport, either. It's about the younger girls in Jamaica that don't really get the opportunities to be seen as much as the girls in Canada or the United States. For those Jamaican girls, soccer has always really been more of an escape for them than anything. Our hope is to make them proud."
Memphis Legacy
For young soccer players with aspirations of playing internationally or for a professional club, playing for Monaghan at the UofM provides a direct path. That's been proven by the accomplishments of Hudson-Marks and her other recently-departed teammates.
"We had five seniors this year and three of them are playing in Europe professionally and Chanel is going to be playing in the World Cup," Monaghan said. "That obviously isn't something that happens all the time or at very many places. It's really special."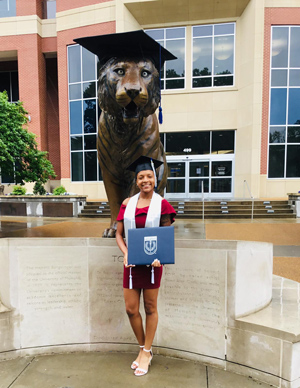 Hudson-Marks graduated in early May from the Fogelman College of Business & Economics with a degree in Marketing Management. She has a potential job opportunity lined up in Kentucky once her World Cup experience ends. As for what's next in soccer, she's optimistic the right professional opportunity may come her way soon.
Though her exact future is to be determined, her past at the UofM is etched in the record books. Through perseverance and the willingness to evolve for the better, Hudson-Marks has left a legacy behind at her alma mater.
"It's obviously great for this program," said Monaghan, "but also I think it's something great for this University to have any athlete play at the highest stage in the world for their sport. Hopefully, Chanel has started something here as the first and she won't be the last one."
Tune in to cheer Chanel and her team to victory!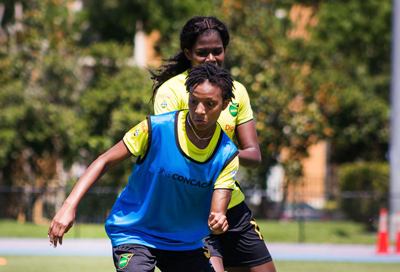 Photo Credit: Alacran Group
Jamaica's World Cup Schedule
June 9 vs. Brazil, 8:30 a.m. CT, FS1
June 14 vs. Italy, 11 a.m. CT, FOX
June 18 vs. Australia, 2 p.m. CT, FS2