May 2020 Press Releases
- Friday, May 29 -
UofM Board of Trustees will meet via video conferencing June 3
In keeping with COVID-19 health and safety guidelines, the UofM Board of Trustees will meet via video conferencing Wednesday, June 3, beginning at 9 a.m. with a nonpublic executive session to follow.
---
- Thursday, May 14 -
University of Memphis doctoral student awarded NIH F31 fellowship
Kelsey Mankel, PhD student in Communication Sciences & Disorders, was awarded an NIH F31 NRSA fellowship from the National Institute on Deafness and Other Communication Disorders for her project "Neural bases of successful auditory learning."
Read more about the fellowship>
---
- Wednesday, May 13 -
UofM Global offers free online course – Baseball: For the Love of the Game
The course will be taught by two instructors with an extensive knowledge of baseball, Curt Hart and Reggie Williams.
More details and how to register>

---
- Monday, May 11 -
School of Communication Sciences and Disorders creates communication boards for ICU patients
The boards are designed for patients who are – or recently were – intubated, or who are in isolation and may not be able to speak.
---
- Friday, May 8 -
Largest UofM graduating class celebrates milestones online
Although the University of Memphis won't be able to celebrate spring commencement in the traditional manner, there are some noteworthy milestones to be celebrated.
Read more about the graduating class>
---
- Thursday, May 7 -
UofM ranked safest large campus in Tennessee – sixth time in eight years
Over the last eight years, the UofM consistently has among the lowest reported crime rate among large public and private universities in Tennessee.
Learn more about safety on campus>
---
- Wednesday, May 6 -

University Middle School debate team wins national championship
The University Middle School debate team won the public debate forum finals of the 2020 National Urban Debate League Middle School Nationals in a two-day virtual event this past weekend. It marked the first time UofM Middle students competed in a multiple-day national tournament.
---
- Monday, May 4 -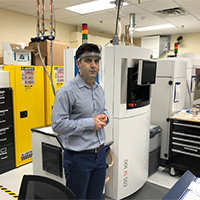 Herff College of Engineering partners with MCR Safety and Precision Plastics to produce free face shields for health care workers
The partnership will provide the face shields free of charge to first responders, health care facilities and medical professionals with need.
More details on the partnership>
---
- Friday, May 1 -
University of Memphis once again announces no tuition increase for upcoming academic year
The UofM has led the State of Tennessee in higher education cost-containment over the past seven years, with an average tuition increase of only 1.5%.
Kroger Health Partners with UofM and Cherokee Health Systems for Free Drive-Thru COVID-19 Testing
Testing will be Tuesday, May 5, through Thursday, May 7, from 10 a.m. to 4 p.m.
UofM and Malaysian American community partner on food drive for international students Saturday
Food donated by the local Malaysian American community will be distributed to 125 international students Saturday.