May 2021 News Releases
- Friday, May 28 -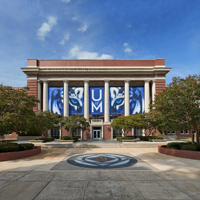 UofM Board of Trustees will meet June 2
The University of Memphis Board of Trustees will meet on June 2. The committee meetings will begin at 8:30 a.m. and will run consecutively. Links for the livestream will be provided on the day of the meeting.
---
- Thursday, May 27 -
UofM holds groundbreaking for Mike Rose Aquatics Center
The University of Memphis held a groundbreaking ceremony for the $12 million Mike Rose Aquatics Center on Wednesday. The Rose Family Foundation made a gift to name the facility in memory of Mike Rose. The Rose Family Foundation partnered with the UofM to renovate the facility that is used by Memphis Tiger Swimming, Splash Mid-South and the UofM community.
Read more about the aquatics center >
---
- Wednesday, May 26 -
UofM's Sabri receives another patent featuring temperature sensing technology
Dr. Firouzeh Sabri, professor and chair of Physics and Materials Sciences and FedEx Institute of Technology Biologistics Research Cluster fellow at the University of Memphis, recently received notification of a second patent for her research on temperature sensors.
---
- Thursday, May 13 -
UofM expands corporate workforce education opportunities by partnering with InStride

UofM Global has partnered with InStride to join its academic network, increasing both entities' ability to reach more corporations interested in sponsoring strategic workforce education for their employees.
---
- Wednesday, May 5 -
Kim Marks Malone receives Steve and Linda Simon Family Fellowship
Kim Marks Malone, APR, Fellow PRSA, online program coordinator and PR instructor, has been awarded the Steve and Linda Simon Family Fellowship for 2021-24. The Simon Family Fellowship is the University's first fellowship dedicated to a public relations faculty member.
---
- Monday, May 3 -
UofM to hold commencement Saturday, May 8, at the Liberty Bowl
The University of Memphis will recognize 2,680 graduates from spring 2021 with four commencement ceremonies on Saturday, May 8, at Liberty Bowl Memorial Stadium.