October 2021 News Releases
- Friday, Oct. 29 -
UofM's Hooks Institute to Host Virtual Policy Papers Presentation on Race in the Time of COVID
The Benjamin L. Hooks Institute will present its 2021 Policy Papers via Facebook Live on the Hooks Institute Facebook page on Tuesday, Nov. 9, at 6 p.m. During the virtual presentation, participating scholars will discuss their research on critical civil and human rights issues as a starting point to build community dialogue and action toward solving contemporary problems related to the COVID-19 pandemic.
---
- Thursday, Oct. 21 -
University of Memphis Honors Legendary Band Director Joe Sills
For nearly six decades, the University of Memphis has hosted the contest of the Mid-South's top high school marching bands. The winner of that competition has laid claim to the most prestigious band championship in the region. Now, for the first time, the grand prize of that competition will have a name — the Joe Sills Cup.
---
- Monday, Oct. 18 -
UofM announces new effort to increase student success for adult learners of color
The University of Memphis received a grant supporting University-community partnerships aimed at leveraging the assets of Black, Latino and Indigenous adult learners from the Association of Public and Land-grant Universities (APLU) and Coalition of Urban Serving Universities (USU) to identify and address barriers facing adult students of color.
---
- Thursday, Oct. 7 -
Hooks Institute to host panel on combating HIV in Memphis
The Benjamin L. Hooks Institute for Social Change will host an online discussion titled "Combating the HIV Epidemic in Memphis" as part of its newly created "Focus on Memphis" series. Panelists will discuss HIV stigma and discrimination in the African American community, living with HIV and ways to reduce the risk of getting HIV and other STIs. The event will be livestreamed on the Hooks Institute's Facebook page on Oct. 19 from 6-7 p.m.
---
- Monday, Oct. 4 -
VanLandingham promoted to UofM Chief Government Relations and Policy Officer
Katie VanLandingham has been promoted to chief government relations and policy officer at the University of Memphis and will head the UofM's Office of Government Relations and Policy. She has served as senior director of government relations and policy for the UofM's Office of Economic Development and Government Relations since January 2020.


---
- Friday, Oct. 1 -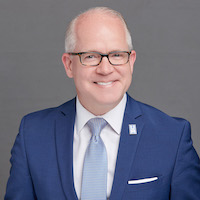 Ted Townsend named Chief Economic Development Officer of the Greater Memphis Chamber
Ted Townsend has been named chief economic development officer of the Greater Memphis Chamber, launching his transition to the region's primary economic development organization. Since Sept. 1, 2020 (901 Day), Townsend had headed economic development for both the Chamber and the University of Memphis in a partnership to grow the local economy.