UofM receives INSIGHT Into Diversity 2021 Higher Education Excellence in Diversity (HEED) Award
Sept. 22, 2021 — The University of Memphis was one of 101 recipients of the 2021 Higher Education Excellence in Diversity (HEED) Award from INSIGHT Into Diversity magazine, the oldest and largest diversity-focused publication in higher education.
"This recognition reinforces the University of Memphis' commitment to our core values and that our diversity is a remarkable strength of our University and the broader Memphis community," said UofM President M. David Rudd.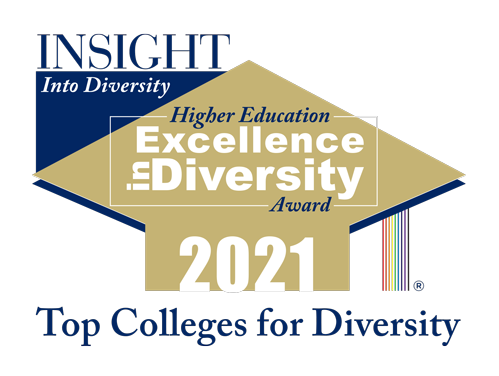 "The University of Memphis is immensely proud and honored to be recognized as a Top College for Diversity, and we thank INSIGHT into Diversity for acknowledging the hard work of our faculty, staff, students, alumni, community and corporate partners," said Dr. Karen Weddle-West, UofM vice president for student academic success/director of diversity initiatives.
"The HEED award is nationally recognized as the most prestigious honor for excellence in diversity, equity and inclusion among institutions of higher learning and is emblematic of the University's commitment to academic excellence via diversity in teaching, research, service and student success. Receiving this award during the year that we achieved record-breaking graduation rates for all students is particularly rewarding and assures that we will continue to work to fulfill the mission and vision of the University."
As a recipient of the annual HEED Award — a national honor recognizing U.S. colleges and universities that demonstrate an outstanding commitment to diversity and inclusion — the UofM will be featured in the November 2021 issue of INSIGHT Into Diversity magazine.
"The HEED Award process consists of a comprehensive and rigorous application that includes questions relating to the recruitment and retention of students and employees — and best practices for both — continued leadership support for diversity, and other aspects of campus diversity and inclusion," said Lenore Pearlstein, publisher of INSIGHT Into Diversity magazine.
"We take a detailed approach to reviewing each application in deciding who will be named a HEED Award recipient. Our standards are high, and we look for institutions where diversity and inclusion are woven into the work being done every day across their campus."
For more information about the 2021 HEED Award, visit insightintodiversity.com.